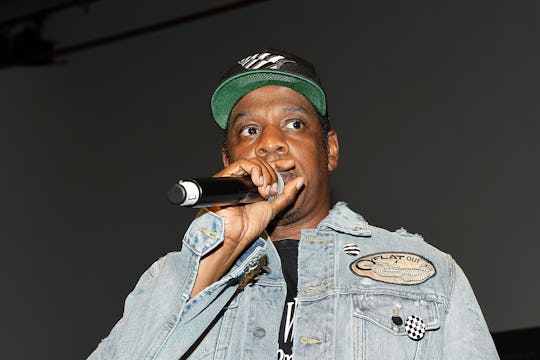 Matt Winkelmeyer/Getty Images Entertainment/Getty Images
Reactions To Jay-Z's 'Moonlight'Prove People Have A Lot Of Feelings
JAY-Z dropped his first official video for the song "Moonlight" from his 4:44 album on Friday night. As with all things Z-related, it was highly anticipated, watched by basically everyone, and hotly debated on social media within moments of its release. Reactions to JAY-Z's "Moonlight" saw many fans raving that the video was a brilliant way to turn the white privileged world of the entertainment industry on its head. But not everyone necessarily made the same connection.
The video, which aired on JAY-Z's music streaming service Tidal at (naturally) 4:44 on Friday, saw an all-star cast of black actors taking over the set of Friends in what appeared to be a remake of the famed sitcom. Complete with the original couch, Monica and Rachel's apartment, all of it. Jerrod Carmichael, Tiffany Haddish, Issa Rae, LaKeith Stanfield, Tessa Thompson, and Lil Rey Howery rounded out the cast, playing the original roles of Ross, Phoebe, Rachel, Chandler, Monica, and Joey respectively. It seemed like a straight remake of one particular episode, "The One Where No One's Ready," when the video (which was directed by Master Of None's co-creator Alan Young) cut to the actors supposedly on break. Comedian Hannibal Burrell takes them to task for what he sees as "Seinfeld episodes with black people," and asks them if they're planning on doing a "Full House with black people next."
The disillusioned cast leaves the set, and "Moonlight" begins. JAY-Z intoning that they're all "stuck in La La Land, even when we win, we gon' lose."
Just in case anyone wasn't sure what JAY-Z was referencing, a voice-over of Warren Beatty announcing that La La Land won the Oscar for Best Picture at the 2017 Academy Awards is played... when, in fact, Moonlight was the actual winner. A monumental mix-up that felt like something more.
The internet had some feelings about "Moonlight."
Some were simply moved by the nostalgia of the video.
While others paid close attention to the deeper meaning behind JAY-Z's choices. For instance; the fact that many people believe Friends was a copied, whitewashed version of Queen Latifah's Living Single. And the original show was never credited.
The video for "Moonlight" will be available to everyone by the end of next week. Once it is widely available, it will be interesting to see how many people actually make the connection JAY-Z clearly intends. To see the whitewashing of black culture, the subtle (and frequently less than subtle) ways that the entertainment industry favors white actors and musicians.
Or will everyone just think it's super neat that there was a little Friends remake?