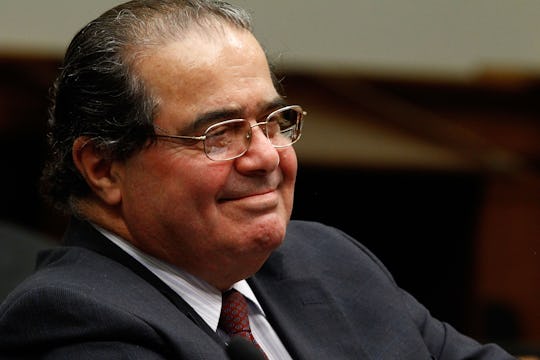 Chip Somodevilla/Getty Images
Reactions To Justice Scalia's Death Show He Was Beloved Even By Those Who Disagreed With Him
When it was reported that Associate Supreme Court Justice Antonin Scalia was found dead Saturday at the age of 79, the outpouring of remembrances and tributes from within the judiciary, from politicians, and from ordinary citizens were immediate. Scalia was the longest standing member of the current Supreme Court, having been nominated by President Ronald Reagan in 1986. Scalia was known for his staunch conservative values and his strict interpretation of the Constitution, as well as his occasionally salty dissents. Reactions to Scalia's death so far clearly reflect Scalia's tremendous impact on those around him, professionally and personally.
John Roberts, Chief Justice John Roberts responded to Scalia's death in a statement read on CNN:
On behalf of the court and retired Justices, I am sadded to report that our colleague justice Antonin Scalia passed away. He was an extraordinary individual and jurist, admired and treasured by his colleagues. His passing is a great loss to the Court and the country he so loyally served. We extend our deepest condolensces to his wife, Maureen, and his family.
Texas Gov. Greg Abbot also weighed in Saturday,
He was the solid rock who turned away so many attempts to depart from and distort the Constitution. We mourn his passing, and we pray that his successor on the Supreme Court will take his place as a champion for the written Constitution and the Rule of Law. Cecilia and I extend our deepest condolences to his family, and we will keep them in our thoughts and prayers.
Candidates in the 2016 presidential race also shared their reactions Saturday:
Of course, Cruz was also quick to advocate for President Barack Obama not being allowed to appoint Scalia's replacement:
Former President George W. Bush also expressed his condolences:
On Twitter, some noted the now near-complete uncertainty that, in a sense, rules the U.S. right now:
And some reacted with an solution to the "who will replace him?" question on everyone's mind today:
I mean, it's not a terrible idea.
But perhaps the most meaningful tributes came from people who disagreed strongly with the justice but still respected him as a person and an intellect:
Obviously, Justice Scalia, you are dearly missed.