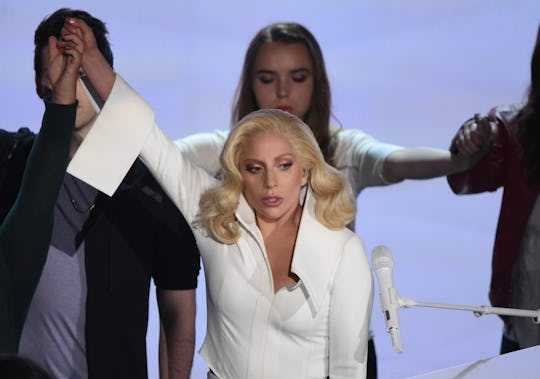 MARK RALSTON/AFP/Getty Images
Reactions To Lady Gaga's Oscars Performance Were Incredibly Moving
It was one of the most emotional moments of the night. The 88th Academy Awards included a touching moment dedicated to victims sexual violence and sexual assault when Lady Gaga delivered a powerful performance of her Oscar-nominated song, "Til It Happens To You" from the documentary The Hunting Ground, a 2015 film about the campus rape epidemic. And reactions to Lady Gaga's Oscar performance proved that the beautiful moment actually represented something much larger to her fans and anyone affected by sexual violence.
Gaga, who teamed up with Diane Warren to record the song, has been clear that this is a personal issue for her. Speaking to ABC News prior to her Sunday night performance, Gaga talked about why highlighting campus rape was so important to both her and Warren:
One in five women will be raped by the time they finish college. One in 20 men will be raped before the time they finish their schooling at their university. It's something that is deeply connected to my heart. I am myself a survivor. Diane Warren is herself a survivor of sexual violence. And we are here tonight, very grateful to the Academy for giving us this world stage to reward survivors for being brave and coming forward.
Gaga was introduced by Vice President Joe Biden, who called for more attention and accountability for sexual violence — and far less shame and stigma for rape victims.
Biden invited viewers and audience members to visit ItsOnUs.org to learn more about what they can do to prevent sexual violence and support rape victims. As if to drive the point home, Gaga arrived on stage with a number of rape survivors who bravely stood beside her, hands raised and clasped in solidarity, while the audience was moved to tears.
But perhaps the most emotional reaction of the night came from Kesha, who is fighting her own producer and alleged abuser Dr. Luke in court.
Dr. Luke has denied all claims. Still, the high-profile ordeal wasn't far from Gaga's mind on Sunday night, according to USA Today, as the pop star prepared for what quickly became one of the night's biggest moments:
Lady Gaga may not have won in her category, but she certainly won the Oscars.