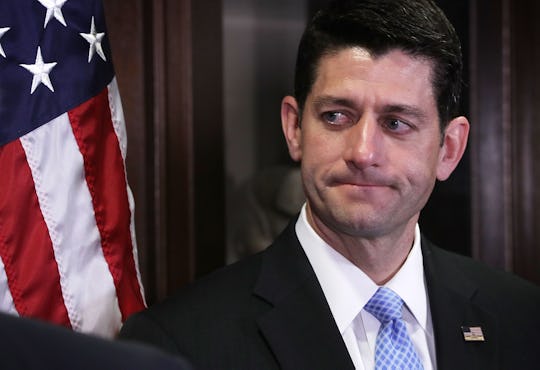 Alex Wong/Getty Images News/Getty Images
Reactions To Paul Ryan's Trump Endorsement Prove Twitter Isn't Ready To Let Him Off Easy
It's now officially official. House Speaker Paul Ryan will vote for Republican presidential candidate Donald Trump this fall. Unsurprisingly, folks on social media haven't exactly kept quiet about the news. In fact, more than anything, the myriad of reactions to Paul Ryan's Trump endorsement prove Twitter isn't ready to let him off easy in the least. No more beating around the bush will be necessary after Ryan announced he'll tick "Trump" on the ballot in a column for his local newspaper.
Despite having differences, Ryan's reasoning for his endorsement of the billionaire businessman was that a Trump presidency would make it an easier task to get Republican legislation passed. With a Republican in the White House rather than a Democrat, like Hillary Clinton, that certainly wouldn't be an overstatement.
"To enact these ideas, we need a Republican president willing to sign them into law," Ryan wrote in an op-ed for his hometown paper, GazetteXtra, on Thursday. "That's why, when he sealed the nomination, I could not offer my support for Donald Trump before discussing policies and basic principles."
"One person who we know won't support it is Hillary Clinton," Ryan wrote on his goal to unite Republicans. "A Clinton White House would mean four more years of liberal cronyism and a government more out for itself than the people it serves. Quite simply, she represents all that our agenda aims to fix."
Many thought Ryan was stalling after a meeting last month when he said he wasn't "ready" to support Trump. People didn't hold back on social media and these reactions on Twitter prove this announcement won't go down quietly either:
Whatever the case, Ryan's endorsement seemed pretty inevitable, all things considered. Even though Ryan said Trump needed to do some work to show a true conservative side before he'd officially endorse him, Ryan has publicly said in the past that he would support the Republican nominee, whomever he or she was, in order to maintain unity against the Democrats.
"It's no secret that he and I have our differences," Ryan wrote in the newspaper column. "I won't pretend otherwise. And when I feel the need to, I'll continue to speak my mind. But the reality is, on the issues that make up our agenda, we have more common ground than disagreement."
Still, not all conservatives are on board with Trump. That was what Ryan said was one obstacle to work on after the pair met last month. However, Ryan's concession that the Republican agenda will be met much more easily with Trump in office and an endorsement from Ryan definitely is true and was likely one of the only things pushing him to make his decision this week.
"It's not just a choice of two people, but of two visions for America," Ryan concluded the column. "And House Republicans are helping shape that Republican vision by offering a bold policy agenda, by offering a better way ahead."