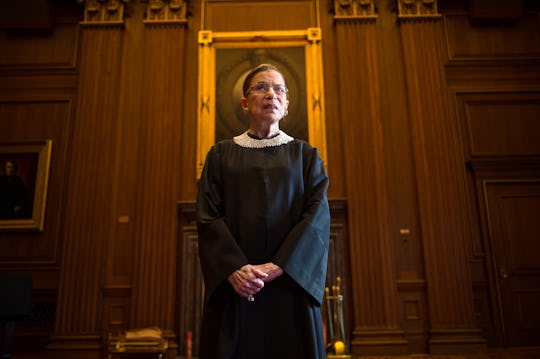 The Washington Post/The Washington Post/Getty Images
These Tweets From Mothers & Daughters About RBG's Legacy Are Absolutely *Everything*
Ruth Bader Ginsburg's mother died of cervical cancer one day before RBG graduated high school, and in 1993, when she accepted her spot on the Supreme Court, RBG said, "I pray that I may be all that (my mother) would have been had she lived in an age when women could aspire and achieve and daughters are cherished as much as sons." Suffice it to say, she absolutely was all that her mother could have — and would have! — been, and it's this legacy that has mothers and daughters reacting to RBG's death with reverence and gratitude.
I have two little girls, and the news of RBG's death at 87 last night made my stomach drop. The loss is devastating in so many ways to so many people, but I know I'm not alone in feeling a deep sadness because of my two little girls. RBG changed the status quo. She shook things up. She demanded equality for all, despite not receiving it herself when she was younger. She had to find the balance between work and motherhood, and never took either of them for granted. She was everything a woman could ever hope or want to be, and she did it because of us. She did it for us. For her mother who couldn't, and for the little girls who needed her.
And millions of mothers and daughters around the country know it. These tweets made me cry because they so succinctly describe the relationship we all feel that we have with RBG. She is our protector, our leader, our guiding light — and the reason we're all able to be who we are.