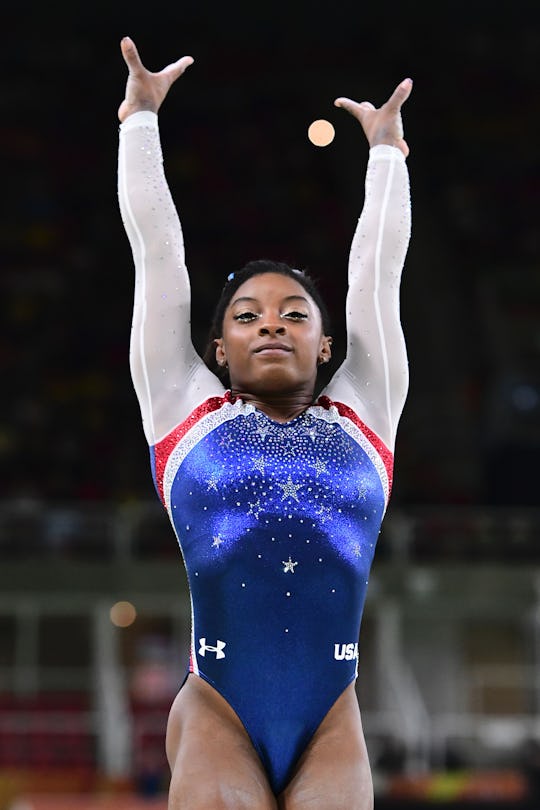 EMMANUEL DUNAND/AFP/Getty Images
Reactions To Simone Biles Winning The Individual All-Around Cement Her As A Legend
On Thursday, Simone Biles cemented her status as American gymnastics royalty when she obliterated the competition at the Olympic women's all-around final. Widely considered the most talented gymnast ever and heavily favored to earn gold in each of the events in which she'd compete, the 19-year-old flipped, vaulted, tumbled, and soared to the top of the medal podium. She's the fourth consecutive Olympic gymnast in a dazzling slew of American women to win the all-around at the Games, but reactions to Simone Biles winning the individual all-around cement her status as her own brand of legend.
The American women absolutely killed it in the competition in Rio, with Biles' "Final Five" teammate Aly Raisman winning the silver medal. As a three-time world champion with an incredibly intricate and difficult gymnastics move named after her, Biles is the embodiment of athletic prowess. So watching her represent the United States on the medal podium was mostly a foregone conclusion — but that didn't take away from the absolute awe she inspired in spectators, including former gymnastics Olympians.
Because of the unparalleled difficulty values of her routines and the flawless grace with which she executed each of them, the Biles beat out even her closest competition by a truly mind-blowing margin: Wall Street Journal reporter Ben Cohen tweeted that she won by 2.1 points, a margin of victory greater than any from 1980 to 2012 combined.
Just think about that for a moment before we continue with the very, very well-earned reactions to this amazing feat.
Predictably, one of the most exuberant responses to the gold-silver dynamic duo that is Biles and Raisman came from Leslie Jones, a Saturday Night Live comedian whose enthusiastic live tweeting of the Games from home earned her an invitation to join NBC's coverage of the event last week. She tweeted from inside the arena and, with her repeated, ecstatic screams of "Champions!" summed up everything it means to support team USA and recognize its greatness — specifically, the greatness of these two women:
But Biles' and Raisman's performances impressed those who know the intricacies of the sport as well, because they've lived them. Nastia Liukin won the all-around for the United States in 2008 — Americans Carly Patterson and current Olympics team member Gabby Douglas did so in 2004 and 2012, respectively — and she was psyched for the ladies, as well:
Even McKayla Maroney, who competed on the U.S. team in 2012, was feeling it. A lot:
And one Twitter user recognized Biles' dominance with perhaps the ultimate compliment:
But, like I said, she's her own kind of amazing:
Even after she won, no one really wanted her to stop:
In addition to slaying gymnastics as a whole, Biles also represents the epitome of #BlackGirlMagic, enthralled fans were quick to point out:
And that was true even before she won the all-around, for sure:
It's impossible not to be super proud of Raisman, the team's captain and a second-time Olympian, too:
As intense and electrifying as Thursday was, Biles still has three more opportunities to win gold during these Olympics: on the beam, vault, and floor. That's three more chances for Americans to express just how impressed they are by the seemingly unbeatable prodigy.