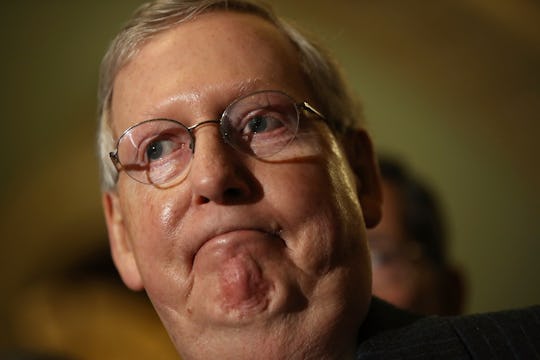 Win McNamee/Getty Images News/Getty Images
Reactions To The "Nuclear Option" Show Who's To Blame
On Thursday, Senate Majority Leader Mitch McConnell made good on his promise to use the "nuclear option" to move forward with the confirmation of President Trump's SCOTUS pick, Neil Gorsuch. It has been an embattled morning for the Senate on Capitol Hill, where Democrats initially scored a very brief victory to successfully filibuster Gorsuch — but only for a short while. After a flurry of procedural votes, McConnell lowered the vote threshold to confirm a Supreme Court justice from a two-fifths majority (60 votes) to just a simple majority of 51 votes. Reactions to the nuclear option on social media show a mix of everything from shock that the GOP actually went through with it, to sheer disgust to the travesty that just happened to Senate precedent.
The #NuclearOption hashtag began trending on Thursday just after McConnell's first cloture vote to end the Democratic filibuster against Gorsuch, as the social media world waited for the inevitable invocation of the nuclear option by Senate Republicans. And then the GOP actually pulled the trigger on fundamentally changing Senate precedent just because they weren't getting their way with Gorsuch — even after denying Merrick Garland even a single confirmation hearing — another "first" in the Senate, if horrible in its implications.
Everyone from members of Congress to celebrities to progressive organizations had something to say about the unprecedented nuclear option on Thursday, and it got pretty heated on Twitter.
Senate Democrats Speak Out
New York Sen. Kirsten Gillibrand had no qualms explaining exactly why the nuclear option was just plain wrong, calling it "Irresponsible for our democracy." Gillibrand was joined by fellow Senate Democrats, including Connecticut Sen. Richard Blumenthal, Vermont Sen. Bernie Sanders, and Washington Sen. Patty Murray, in expressing their collective disappointment with GOP Senate tactics.
Naming Names
There are still 578 days until the 2018 midterm elections, but after Thursday's literal game-changing vote, the Senators who voted on the wrong side of history must — and will — be remembered at the ballot booths, as plenty of progressives reminded each other on Twitter Thursday afternoon. NARAL gave everyone a clear outline of exactly which Republican senators voted to use the nuclear option.
Others pointed out that some Republican senators who could have prevented today's nuclear option were clearly all talk. Take for example, Sen. John McCain, who called nuclear option supporters "stupid idiots" on NBC News literally less than 24 hours ago.
It's also important for progressives to remember that Thursday's nuclear option vote didn't fall solely along party lines, as FOX News contributor Chad Pergram named the three Democrats who voted to use the nuclear option. And yes, they are each up for reelection in 2018.
Humor Has Been Necessary, Too
For some, the best way to handle watching American democracy burn to the ground is to just laugh and laugh through it. And since Senate Republicans went nuclear today, there was an onslaught of obligatory nuclear explosion GIFs. But some folks on Twitter invoked the far nerdier Star Wars metaphor instead.
And of course, there was collective shock that the GOP actually went through with their threats.
One For The History Books
As CNN anchor Jake Tapper noted on Twitter, Thursday's vote to go nuclear marked a historic day for the country — but it's not a day America should really be proud of, either. America can say with certainty that a new chapter was written in government history with the Senate vote to trigger the nuclear option for SCOTUS confirmations — but what might that passage actually say?
In the end, as much as the GOP wants to pin the nuclear option on the Democrats, it was Republicans' partisan obstructionism on Merrick Garland that even got the Senate to this point, by not even granting Garland a single confirmation hearing for the first time in Senate history.
I'm all for historic moments, but as the Senate GOP demonstrated on Thursday, they may have just landed themselves on the wrong side of history — and only time will tell if their political careers can survive the disastrous implications of their vote.