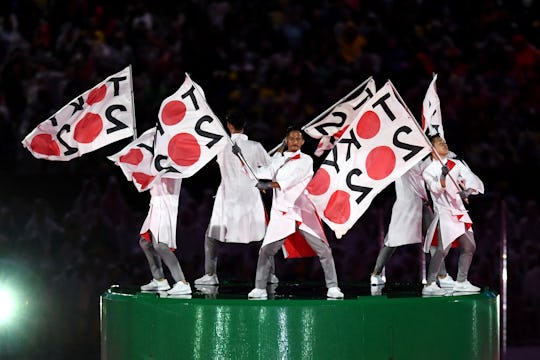 David Ramos/Getty Images Sport/Getty Images
Reactions To The Tokyo 2020 Commercial At The Closing Ceremony Were Ecstatic
As is customary during any Olympics closing ceremony, the host city for the next Games gets to play a role, showing the world what they have in store four years from now. And the Rio closing ceremonies were no exception as the torch (or rather flag) was passed to Tokyo. The reactions to the Tokyo 2020 commercial at the closing ceremony in Rio were, to put it lightly, lit.
"The joy was even greater than when I won my own election," Japanese Prime Minister Shinzō Abe said when Tokyo won the 2020 Olympic bid, according to NBC's commentators. Although that's probably just because he got to dress up like Super Mario for his appearance on the Rio closing ceremony stage. Yes, Mario, Hello Kitty, Pac-Man, and other manga and video game characters featured prominently in the Tokyo 2020 commercial. It all culminated in a shot of Abe being driven through the streets of Tokyo, realizing he was going to be late for the Rio closing ceremony. He then transforms into Mario and, with the assistance of a tunnel-digging pipe, drills through the earth to land on the other side of the world, just in time to make his Rio appearance.
And the site of Japan's prime minister in a Super Mario cap is truly something to behold.
Here's the commercial in full:
And it got folks super riled up:
Skateboarding, karate, and surfing are all sports set to make their Olympic debuts in Tokyo in 2020. But because the city is vastly modern, wealthy, and of sound economic structure, you can bet we're going to see opening and closing ceremonies with budgets the likes of Beijing 2008 and London 2012. Rio, on the other hand, had a much, much smaller budget available to work with, so it relied heavily on projectors to infuse its opening and closing ceremonies with magic. But you may have been able to sense the marked difference in production value between Rio's opening ceremonies and those of our other recent Olympics. And we're virtually guaranteed that, unlike Sochi and Brazil, the proud city of Tokyo won't be plagued with nearly the same structural issues that Olympics hosted in less bustling cities fall victim to.