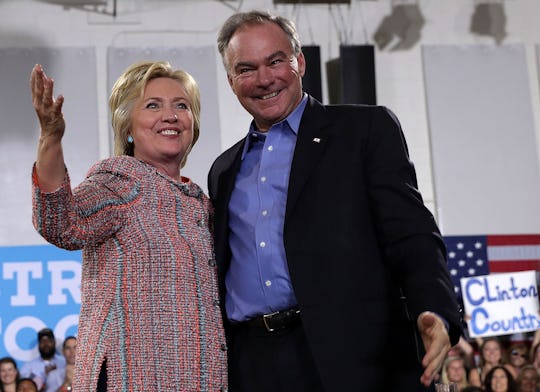 Alex Wong/Getty Images News/Getty Images
Reactions To Tim Kaine As Hillary Clinton's VP Are A Mix Of Support & Frustration
On Friday, after a much-anticipated wait following a campaign stop in Tampa, Florida, former Secretary of State Hillary Clinton — the presumptive Democratic nominee — announced via text and Twitter that she had selected Virginia Sen. Tim Kaine as her running mate. With so many people waiting eagerly for the announcement on Friday night, reactions to Tim Kaine as Hillary Clinton's VP pick came in within seconds of the announcement on the official @HillaryClinton Twitter account.
On Thursday, The New York Times reported that it was widely speculated that Kaine, the junior senator from Virginia — and the Old Dominion state's former governor — was slated to be Clinton's vice presidential pick, according to Democrats close to the Clinton campaign. Many political analysts have called Kaine a "safe" choice for the Democrats, not only for his record as a moderate Democrat, but as a senator in a state that is recently being considered more and more of a swing state for the presidential election in November.
As the country begins to learn more about the latest name to enter the general election race to the White House, voters on Twitter seemed to express everything from enthusiastic support to outright disappointment and frustration.
Kaine has the support of his fellow senator from Virginia, Sen. Mark Warner:
But among Democratic voters, the reactions to Clinton's VP pick spanned a range of support:
Political analysis came pouring in on Twitter immediately as well:
And from politicians on both sides of the aisle:
Conspicuously absent from immediate reactions on Twitter? Vermont Sen. Bernie Sanders' thoughts on his former primary opponent's VP announcement — but that's probably because he's prepping for the Democratic National Convention in Philadelphia, Pennsylvania next week. Clinton and Kaine are set to accept their party's official nominations as President and Vice President respectively, to the Democratic ticket at the DNC.