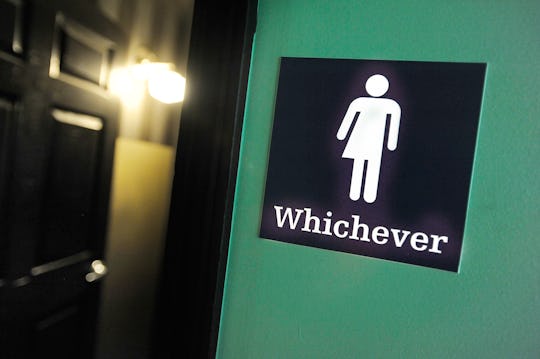 Sara D. Davis/Getty Images News/Getty Images
Anger Over Trump's Transgender Bathroom Roll-Back
On Wednesday, President Donald Trump reversed federal education guidelines protecting transgender students put in place during the Obama administration. The previously-established guidelines interpreted that Title IX laws preventing discrimination laws in schools must also include protections for transgender students. Reactions to Trump lifting transgender bathroom protections in schools have been swift in their condemnation — and have pointed out Trump's apparent hypocrisy as a supporter of LGBT rights.
In May 2016, the Justice Department and Department of Education under Obama released several guidelines protecting transgender students, including access to "sex-segregated facilities consistent with their gender identity." In August, the Obama-era transgender bathroom policy faced its first challenge in court when a federal judge in Texas temporarily blocked the policy. Two months later, the U.S. Supreme Court agreed to hear the case of Gavin Grimm, a trans boy who was denied access to use the boys' restroom at his high school in Gloucester County, Virginia.
One of the most prominent reactions to Trump's lifting of protections for transgender students came from within his own administration. The New York Times reported that recently confirmed Education Secretary Betsy DeVos was against the decision to rescind the transgender protection guidelines, but faced opposition from Attorney General Jeff Sessions: Both the Justice and Education Departments had to concur on the policy change. Faced with losing her job, DeVos was forced to concede. But on Wednesday, DeVos tweeted her support for LGBT students: "I consider protecting all students, including #LGBTQ students, not only a key priority for the Department, but for every school in America."
Reactions poured in from major LGBTQ organizations and celebrities, to legislators on the Hill. The LGBT Caucus, a bipartisan group of six openly-LGBT politicians, tweeted its support while vowing to continue the fight:
Colorado Rep. Jared Polis, a member of the LGBT Caucus, deftly responded to a June 2016 tweet from Trump that read, "Thank you to the LGBT community! I will fight for you while Hillary brings in more people that will threaten your freedoms and beliefs."
California Sen. Kamala Harris called the Trump administration's actions on Wednesday "shameful" and "appalling" on Twitter:
Washington State Attorney General Bob Ferguson tweeted that his office will continue to enforce laws protecting trans students:
Organizations such as the ACLU and Lamda Legal sought to remind both the Trump administration and concerned LGBT advocates that the fight is far from over and will continue in court with Gavin Grimm's SCOTUS case:
Meanwhile, Jackie Evancho asked to meet with Trump personally to discuss transgender rights, having sung the national anthem at the president's inauguration. Jackie Evancho's older sister Juliet is trans and both sisters are ardent supporters of trans rights.
Celebrities and advocates from within and outside of the LGBT community also reacted with disappointment, outrage, and solidarity for the trans community:
While today's transgender student protection policy reversal may be a setback for American education, the real test will be when Gavin Grimm's case will be heard before SCOTUS next month. Until then, it's up to the LGBT community and its allies to roll up their sleeves and dig even deeper into the work of providing equal protection for all students, regardless of gender identity or expression.