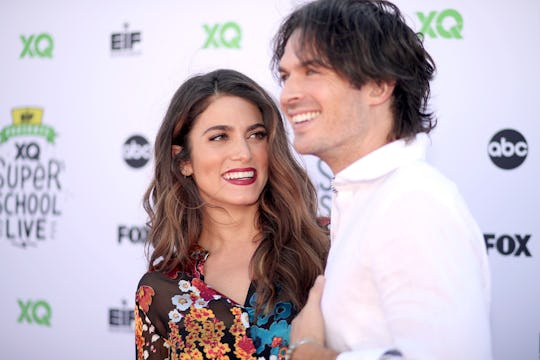 Christopher Polk/Getty Images Entertainment/Getty Images
People Are Not Happy With What Ian Somerhalder Did With Nikki Reed's Birth Control Pills
Earlier this week, Nikki Reed and Ian Somerhalder talked about their journey to pregnancy on Dr. Berlin's Informed Pregnancy Podcast, where the couple recounted how Somerhalder flushed Reed's birth control pills down the toilet once they decided to start trying for a baby. While Somerhalder and Reed very frequently fall onto many fans' lists of #CoupleGoals, their birth control story didn't quite sit right with many people online, who quickly reacted to the interview.
While talking to Dr. Berlin on the podcast thsi week, Somerhalder confirmed that the couple had truly decided that they wanted a baby in May last year. "Oh yeah," Reed responded. "When you threw out all my birth control pills." (This is probably the moment when listeners' ears perked up, because admittedly, that doesn't sound entirely promising.)
Somerhalder then told the entire story:
Our two best friends who we'd been traveling with in Europe that year — we met up in Barcelona, and we decided that we wanted to have children together, and it was just time. But unbeknownst to poor Nikki, she didn't realize that I was going to go in her purse and take out her birth control and pop them ... out. ... There's a six-minute video where she [Nikki] is freaking out. ... What's so cool is there's this video of me with this handful of these little pills. She [Lindsey] is sort of like interviewing Nikki, like, "How are you feeling?'"
"I've never seen this," Reed said in the podcast, laughing. "Was I drunk? Was I coherent?"
Needless to say, the reactions to this story on Twitter weren't exactly chipper. While some people responded with more lighthearted jokes, most of the reactions pointed out that messing with a woman's birth control is never, ever okay.
To be clear, Reed quickly responded to the backlash, shutting down rumors and setting the story straight ASAP. She reportedly told Gossip Cop:
We had countless conversations about starting a family, and it was actually me who initially said to Ian, "When you're ready just let me know and let's throw out these pills and get started."
She also addressed the controversy on Twitter. "WOMEN'S RIGHTS MATTER, so please don't use false narratives to highlight issues that are truly important!" she tweeted on Friday. "We should be talking about these things, but using a funny interview between married ppl &twisting it to perpetuate gossip is irresponsible."
Later on, Reed shared an even longer statement on Twitter clapping back at a news story from earlier on in the day:
The extra information (and clarification) from Reed helps make it clear that she was ready to throw out her pills and start trying for a baby, which is definitely a relief. From her added commentary after the story went viral (and her laughter throughout the podcast), it's clear that Reed was on board with this plan, and that there wasn't any kind of coercion involved.
Despite the confusion that surrounded the story, it did serve as a helpful reminder that tampering with someone else's birth control definitely counts as reproductive coercion, and that — regardless of whether a woman has discussed pregnancy in the past or not — her autonomy over her own body should never be compromised.
Consent doesn't only extend to whether or not someone wants to have sex — it extends to whether someone wants to have unprotected sex, as well, and whether they're having sex with the aim of getting pregnant. Pressuring someone to throw out their birth control is pressuring them to have a form of sex that they may not be consenting to, and that's never okay.