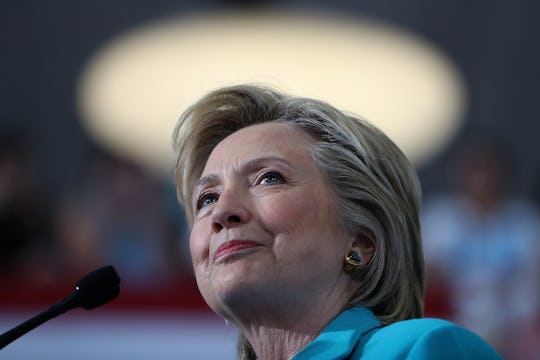 Justin Sullivan/Getty Images News/Getty Images
Read The FBI's Notes On Hillary Clinton's Interview Regarding Her Emails
The FBI released documents on Friday revealing recorded statements from Democratic presidential candidate Hillary Clinton on her July 2 interview regarding her use of private e-mail servers while she served as Secretary of State. The documents are available to the public, and you can read the FBI's notes on Clinton's interview online.
Clinton's email server has certainly made its way to the political conversation, and has long raised questions and concerns for many. The FBI released a summary of Clinton's interview, in which it investigated allegations regarding the improper use of classified information during Clinton's tenure as Secretary of State:
Today the FBI is releasing a summary of former Secretary of State Hillary Clinton's July 2, 2016 interview with the FBI concerning allegations that classified information was improperly stored or transmitted on a personal e-mail server she used during her tenure. We also are releasing a factual summary of the FBI's investigation into this matter. We are making these materials available to the public in the interest of transparency and in response to numerous Freedom of Information Act (FOIA) requests.
In 2015, Clinton had regularly commented on the allegations on the misuse of classified information, like at a campaign stop in Iowa where she reportedly said: "I did not send nor receive anything that was classified at the time," Reuters reported.
A statement released by FBI director James Comey in July revealed that 110 emails in 52 email chains — of the group of 30,000 emails returned to the State Department — contained "classified information at the time they were sent or received," the statement read.
The FBI documents released today indicate that Clinton was allegedly unclear on the labeling of classified information (like many government employees who see lots of information with varying classifications). "Clinton did not recall receiving any emails she thought should not be on an unclassified system," the FBI notes read, cited by CNN. The notes also indicated a lack of training in handling classified content, reading that she "could not recall any briefing or training by State related to the retention of federal records or handling classified information."
Additionally, the FBI notes revealed that Clinton was unaware that the marking "C" meant classified, but instead thought it followed paragraphs with letters listed in alphabetical order, NPR reported.
Following FBI investigations and interviews, Comey recommended against prosecuting Clinton for the mishandling or removal of classified information in July. The decision sparked outrage from those who distrust the presidential candidate. Republican presidential candidate Donald J. Trump called the system "rigged."
In a statement released by the Trump campaign Friday, following the release of the FBI notes, Trump's campaign insist: "...the notes from her FBI interview reinforce her tremendously bad judgment and dishonesty."
In July, Comey called Clinton's handling of classified information "extremely careless," but said, "...Our judgment is that no reasonable prosecutor would bring such a case."
The e-mail scandal has long been a topic of discussion. Only time will tell if the newly released notes will bring voters more clarity.