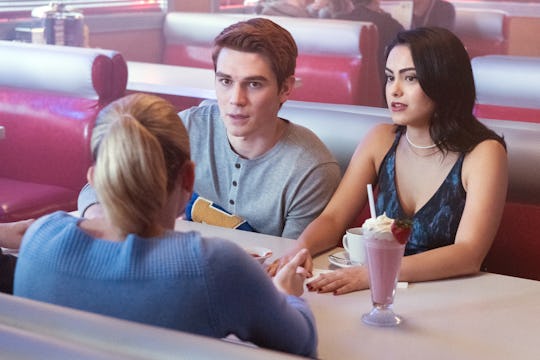 Dean Buscher/The CW
Everything You Need To Know Before Watching 'Riverdale' Season 2
Even though there's only been one full season of Riverdale so far, in true CW form, the show already feels like it's been a staple of the network for years. With all of the drama, mystery, and death from the first season alone, you're totally allowed to need a Riverdale Season 1 recap to remind you of anything you may have forgotten. But let's be real here — who could forget fans' beloved Bughead (that's Jughead and Betty's couple name, for those who are wondering) or the fact that the Blossoms and Coopers share some family lineage from way back in the day?
But throughout the first season, it seemed that with each resolved story, another confusing but intriguing subplot would pop up to stun and excite viewers. Personally, that alone has led me to have some pretty high hopes for Riverdale Season 2 and whatever lies ahead for the ridiculously good looking group of teenagers who have seen enough tragedy in their lives to give One Tree Hill a run for its money.
Season 2 of Riverdale premieres on Wednesday, Oct. 11, but before we all dive back into the lives of our favorite comic book characters come to life (sort of), there's no time like the present to recap Riverdale Season 1 and relive some of the drama that went down in the show's first installment. Because it was seriously a lot.
There Are Two Definite Relationships That Have Formed
The pairing of Betty and Jughead seemed to come easy enough, even if they had a couple of bumps along the way. I.e., Jughead's dad's shady past and their life at the trailer park. Then, along came the natural pairing of Archie and Veronica because by default they had to get together, right? But to be honest, they seemed like a pretty expected couple at the beginning of the season, even if Archie has given Betty some confused, longing looks from time to time.
But One Duo Might Be In Danger
Since Jughead's dad is now in jail for an undetermined amount of time, Jughead has returned to their family home on the south side of Riverdale. But along with his return to his family's roots came an apparent obligation to take his dad's place in the Southside Serpents gang. And judging by the way Jughead looked from the biker gang to Betty at the end of the Season 1 finale, Season 2 will no doubt see him conflicted between his old life and the new one that feels much more accepting of him in his eyes.
Archie's Dad's Fate Is Still Uncertain
Of course Riverdale couldn't end without another murder mystery, but hopefully in Fred Andrews' case, the masked robber at Pop's who shot him missed any pertinent arteries or organs. Even so, Fred's fate on Riverdale Season 2 has yet to be revealed, as well as the seriousness of his injuries when he tried to stop Pop's from being robbed at the end of the first season. At the very least, though, the incident made it possible to give the show's first season a decent cliffhanger and the second season a new mystery to solve.
The Blossom Family's Home Burned Down
Something tells me that the Blossoms will bounce back from Thornhill being torched by none other than Cheryl herself. But since the Blossoms and Coopers were revealed to actually be related, maybe Betty's family will welcome them into their home while the mansion is being rebuilt.
Jason's Killer Was Finally Revealed
The Scooby Gang, a.k.a. Betty, Archie, Veronica, Jughead, and Kevin finally found out that Clifford Blossom had killed his own son after he found out about Clifford's illegal dealings with drugs. It wasn't the biggest shock in the world and almost not as juicy as if it had been someone like Cheryl, but the story was finally wrapped up with Clifford hanging himself in the Blossom's syrup distillery.
Veronica's Dad Will Finally Make An Appearance
Until now, Veronica and her mom Hermione have been running things for their family, but at the end of Riverdale Season 1, Hermoine revealed that Veronica's dad was set to be released from prison. This will no doubt put a damper on any hopes fans had for Hermione and Fred, but it also means there will be a new rich and powerful family to control Riverdale.
Betty's Estranged Brother Might Pop Up As Well
Another big reveal at the end of the season came from Betty's mom, Alice. She finally admitted what a lot of fans had suspected all season, which was that she'd had a baby in high school but had given him up for adoption at birth. I have no doubt that the actor who plays Betty's brother on Riverdale will bring enough drama to continue to shake things up. You know, just in case anyone gets too comfortable.
Riverdale Season 1 had the perfect mix of teen drama, mystery, and romance that will no doubt bleed into the next, and I'm probably more excited than the actual teenagers who watch the show. Riverdale Season 2 premieres on Oct. 11 on the CW at 8 p.m. EST.
Watch Romper's new video series, Romper's Doula Diaries:
Check out the entire Romper's Doula Diaries series and other videos on Facebook and the Bustle app across Apple TV, Roku, and Amazon Fire TV.