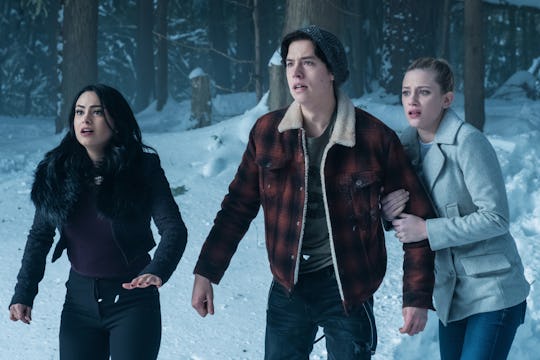 Katie Yu/The CW
'Riverdale' Season 1 Is Heading To A Netflix Near You Very Soon
Season 1 of The CW's Riverdale has been a whirlwind of mystery, intrigue, and teenagers who are so much better looking than any of the kids I went to high school with. Naturally, fans are already asking when Riverdale Season 1 will be on Netflix, since the first installment of the show proved to surpass so many expectations, given that the series is based loosely off the beloved Archie comics. Luckily, you won't have to wait very long to relive all the excitement.
The CW has a deal in place with Netflix, so Season 1 of Riverdale will be made available on the streaming service eight days after the finale airs, which in this case, would be Friday, May 19. So even if you missed it entirely or just want to rewatch the Blossom family crumble or the Cooper family become actually kind of cool, Netflix will have Season 1 of Riverdale at your streaming disposal pretty soon.
With all of the craziness of Season 1, including FP becoming a good dad despite leaving behind a trail of misery, and learning that the Coopers and the Blossoms are related on more levels than Polly's unborn twins, obviously a rewatch will need to be done as soon as possible to see what you missed along the way. Or, you know, just to enjoy the beginning of Betty and Jughead before things got dark and sad for the young couple.
Riverdale might be a show that seems like it's for the teenage crowd, but The CW has long been home to similar teen dramas that draw in all kinds of demographics. So if I can still enjoy Dawson's Creek and One Tree Hill as an adult, I think it's OK to bond with my preteen niece over Riverdale. According to Variety, the series' first six episodes averaged high in the 18-49 demographic, so it's definitely one of those shows for pretty much anyone to enjoy.
Back in March, Riverdale was already renewed for Season 2 after just six episodes of its first season had aired, so that should tell you how much faith the network has in the Twin Peaks-esque teenage drama saga. But since fans will likely be waiting all summer and then some for the next season, having the first season available on Netflix so soon is definitely a source of comfort.
I doubt many of the new series' diehard fans will allow themselves to miss the finale, but the show is full of so many twists and turns that a rewatch could only help as we gear up for Season 2.