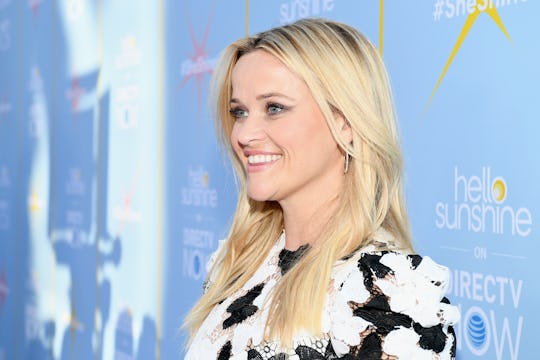 Emma McIntyre/Getty Images Entertainment/Getty Images
Reese Witherspoon Went *ALL OUT* To Read To Her 6-Year-Old Son's Class
One of Hollywood's funniest women has proven that she's willing to go full method for her latest role. On Wednesday, Reese Witherspoon celebrated her son's reading day by donning an adorably ridiculous costume, dressing up alongside her husband, Jim Toth, as the couple served as mystery readers for their 6-year-old son's kindergarten class.
Witherspoon shared her excitement in a bubbly video on Instagram while on her way to her son's school. A pink, furry costume can be seen just below her neck as she says, "It's a big day, we've got something very exciting that we're headed to do." She holds up a gigantic costume pig head and continues, "In order to disguise my identity, I will be wearing this hat, or head." She then holds up the book I Really Like Slop! by children's author Mo Willems.
The second photo in the post shows Witherspoon dressed as Piggie from the book series and Toth dressed as Elephant, flanking their son as he holds up the book with a gleeful expression. "You gotta commit. Hubby & I took Mystery Reader to new levels! Thank you #MoWillems for the inspiration. #ElephantAndPiggi #KingergartenLife #Wuzzles 🐘🐷" she wrote in the caption. The last photo in the post shows Toth and Witherspoon, sans costume heads, reading to the class.
It's no surprise that Witherspoon would support reading in the life of her children. She curates her own book club, making recommendations on her website Hello-Sunshine.com. She also encourages women to share their own stories by submitting essays to the site for publication. And she knows a thing or two about writing herself; she's set to wrap up a nine-city book tour for her memoir-cookbook Whiskey In A Teacup, with one more appearance in Washington, D.C. on Oct. 26.
Witherspoon credits her love of reading for the juicy roles she's been able to delve into even as an actress over the age of 40, as she told W magazine. In an interview with the publication, she told the story of a conversation she had with her husband during a period when the "movies weren't working for me." According to W magazine, he asked if the scripts she was receiving were the kinds of roles she'd want to play and she said she was waiting for those scripts to arrive. "And he said: 'You don't seem like the kind of person who sits around and waits for the phone to ring. You read more books than anybody I know, so why don't you start making them into your own material?'" she told the publication.
According to W, that led to her Oscar-nominated role in Wild and the smash hit Big Little Lies which she adapted for HBO.
As for how she knows what it is that she wants for her life, that credit goes to her children. In a profile of women in Hollywood for ELLE, Witherspoon commented that serving as a good role model for her daughter has been key, saying:
I started noticing a couple years ago that I wasn't seeing women as the stars of movies. I'm seeing them as the guys' girlfriends or so-and-so's wife. I just thought "God, if I don't start buckling down and start producing some movies, what's my daughter going to see in the movies?"
No doubt her most valued role is the one she played this week though. That of a mom who happily and willingly donned a pig costume to bring joy to her little boy.