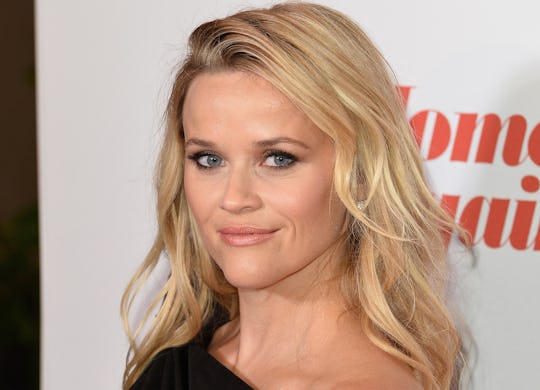 Jeff Spicer/Getty Images Entertainment/Getty Images
Reese Witherspoon Confirms 'Legally Blonde 3' In The Most Elle Woods Way Ever
Please don't hate her, but the sequined pink bikini still fits. Reese Witherspoon just confirmed Legally Blond 3 by donning the iconic swimsuit she wore in Elle Woods' Harvard admission video. Floating on a blue pool mat, Witherspoon shared the video on both her Twitter and Instagram profiles, captioned simply, "It's true... #LegallyBlonde3." Vulture has reported that the script will be written by Karen McCullah and Kirsten Smith, who adapted the Amanda Brown novel for the first film. The movie was eventually developed into a Broadway musical, with several international productions still touring, but fans haven't seen the original Elle bend and snap since Legally Blonde 2: Red, White & Blonde, all the way back in 2003.
In the original film, Witherspoon stars as a pink-obsessed, fashion conscious sorority president whose boyfriend breaks up with her upon his admission to Harvard Law, citing his desire for a more "serious" piece of arm candy to help him fulfill his political ambitions. Elle successfully applies to Harvard with the hopes of winning him back, and is disheartened to find that none of her classmates take her seriously as a student. Eventually, she begins to throw herself into her studies, and proves to be more than just a pretty face.
The lesson, of course, is that you can't judge a book by its cover, which Witherspoon herself also embodies. Though some might assume she's more similar to the Elle in the beginning of the film, she identified more with the evolved version. "I was a pretty good student," she told Hollywood.com in 2001, recalling the year she spent at Stanford University before leaving for another role. "I loved writing papers, researching, and being in the library. I loved that stuff." In preparation for Legally Blonde, Witherspoon attended classes at the University of Southern California Law School, but she also took time to meet with real sorority members.
In another interview leading up to the premiere of the first film, Witherspoon explained what drew her to the role:
What really attracted me to this part was that this character just starts out being the kind of woman that you would kind of discount. You wouldn't think, "Oh she's so academic and intellectual," because she looks kind of silly, dresses in silly clothes, and she's very blonde. But she ultimately proves everybody wrong by winning the day and studying really hard and succeeding.
I think this film dispels the myth that blondes are stupid. I think it really goes to the root of that American idea that blonde women aren't very smart and sort of shows them that you can't judge them just by the way they look.
Witherspoon has been eager to step back into the role for years now, according to Entertainment Weekly. In a 2015 appearance on Fashionably Late with Rachel Zoe, she argued that the time was ripe for revisiting the story:
I actually think it's kind of great right now because we're talking about women in politics and how important that is to get more women. And I think it'd be kind of a cool thing to have her be a Supreme Court justice or someone who runs for office.
Deadline was first to report on the rumor of a reboot earlier this week, and it seems that Witherspoon's wish might come true; the third Legally Blonde installment is said to be "more about female empowerment, a message that hits at a fortuitous time in the culture." But don't discount the original, the way Elle's classmates discounted her: "I have had so many women say, 'I went to law school because of Legally Blonde,'" Witherspoon told Instagram on the movie's 15th anniversary. "It actually had a meaningful story. And it was about female empowerment. It wasn't necessarily about the girl getting the guy." Now it's time to see her run the world.