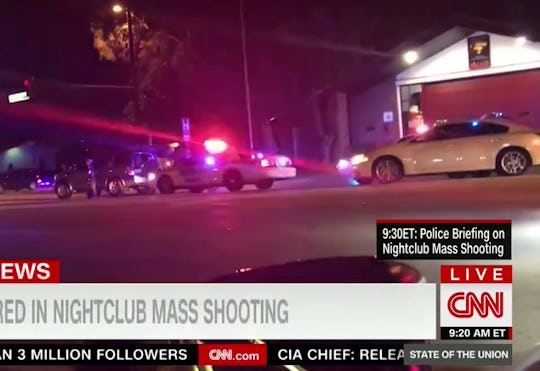 CNN/Screengrab
Responses To The Orlando Club Shooting Show Solidarity With The LGBT Community
A fun night out turned deadly on Sunday when a shooter at an Orlando nightclub killed approximately 20 people and injured 42 more. The mass shooting took place at Pulse, a gay nightclub. Soon, people flocked to social media to show their support, and the responses to the Orlando club shooting show solidarity with the LGBT community, as well as with all those affected by the tragic event.
(Update: The FBI has updated the death toll to 49 victims. The shooter was also killed.)
Around 2 a.m. the gunman entered the club and opened fire with both an assault-style rifle and a handgun. Police Chief John Mina said that he may have been armed with an explosive device as well. The police shot and killed the gunman while attempting to rescue the clubgoers he had been holding hostage. According to CBS News, the gunman has been identified by law enforcement sources as Omar Mateen, a United States citizen from Port Saint Lucie, Florida. Mateen has no criminal record, those sources say, and the police are investigating whether or not he had ties to Islamic terrorism. The shooting has been classified as a "terror incident," according to the police.
The attack left people all over the country heartbroken, and public figures responded swiftly with their sympathy and shock:
Others specifically mentioned the LGBT community in Orlando as they spoke of the senseless violence:
Pulse, the club in which the shooting took place, has referred to itself as "not just another gay club." USA Today reports that one of the club's co-owners started it to promote awareness of Orlando's LGBT community after her brother died of AIDS. On the club's website, owner Barbara Poma wrote, of her brother John:
It was important to create an atmosphere that embraced the gay lifestyle with décor that would make John proud. Most importantly, (we) coined the name Pulse for John's heartbeat — as a club that is John's inspiration, where he is kept alive in the eyes of his friends and family.
Police have yet to confirm that Mateen specifically targeted Pulse because it was a gay nightclub, but given that the act was well-planned, he must have known.
This is the second shocking act of violence to hit Orlando over the past couple of days. On Friday, The Voice contestant Christina Grimmie was shot and killed while signing autographs after a concert. She was only 22 years old. It's enough to make you feel like the world is totally broken, and to wonder if anything can be done to fix it.