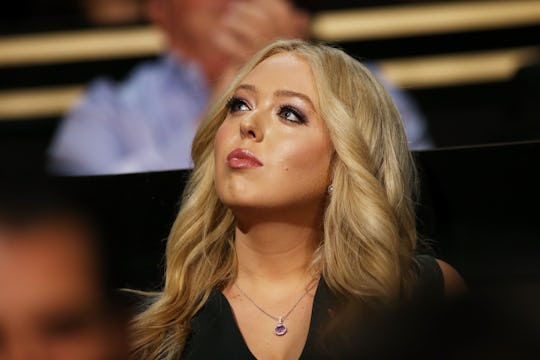 John Moore/Getty Images News/Getty Images
Responses To Tiffany Trump's RNC Speech Were Refreshingly Positive
On Tuesday night, Donald Trump's lesser-known daughter, Tiffany, made her big debut. Though she's mostly stayed out of the limelight on the campaign trail, she stepped onto a national stage to support her father with a speech at the Republican National Convention. And, in the midst of an election that has gotten nasty and horrible in so many ways, responses to Tiffany Trump's RNC speech were refreshingly positive.
After the controversy over Melania Trump allegedly plagiarizing Michelle Obama's convention speech from 2008 on Monday, the media was watching closely as Tiffany took the stage. But, at least immediately, she did not provide fodder for any new scandals, and many praised her speech for being one of the most personal and seemingly heartfelt of the convention so far.
Trump is her father's only child from his second marriage to actress Marla Maples. Her parents' relationship was a tumultuous one, regularly making the tabloids, and when they divorced, Tiffany Trump moved with Maples to California. Though she may not have spent as much time with her father as her half-siblings, she made sure to highlight the good parts of their relationship in her speech, saying,
My dad takes such pride in all that I've done so far, no matter how big or how small. I still keep all of my report cards, some dating back to kindergarten, because I like to look back and see the sweet notes he wrote on each and every one of them.
Many watching the convention praised her, even if they were reluctant to praise her subject matter:
Of course, not everyone was wild about the speech. Some pointed out the strangeness of Trump praising her father's devotion, when Maples told People that she raised her daughter as, basically, a "single mom" after the divorce.
Others, of course, made plagiarism jokes, while still others compared Trump's appearance to that of Amanda Seyfried's less-than-bright character in Mean Girls.
But for many people, the most important question of the night was whether or not Trump would sing her pop single, "Like A Bird." No, it's not the Nelly Furtado song. It's a strange, autotuned relic from 2011 about trying to find "serenity while living it up."
Alas, she did not sing. But for many, her speaking was better than expected. And even many others who may not have been the biggest fans of her speech decided to focus their ire on the more problematic parts of the convention and the Republican platform, rather than on a young woman saying nice things about her father.
And that's important, because those scared by what Donald Trump's rise says about discourse in American politics should not fall into the same patterns of bullying he demonstrates so problematically.