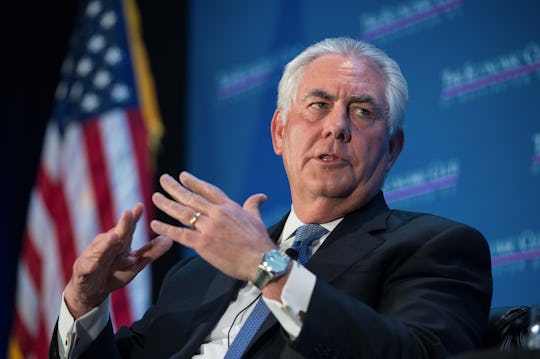 NICHOLAS KAMM/AFP/Getty Images
Rex Tillerson's Background & Close Ties To Russia Make Him A Questionable Cabinet Pick
On Monday, President-elect Donald J. Trump and his transition team announced his pick for the next Secretary of State: Rex Tillerson, currently the chief executive officer for oil giant ExxonMobile. Rex Tillerson's background with ExxonMobile spans more than 40 years with the company, when he started as a production engineer in 1975. The 64-year-old executive from Witchita Falls, Texas, has spent the better part of his life working for the company. With Trump eyeing Tillerson as his latest choice for secretary of state — following in a line of other vetted candidates such as former New York City Mayor Rudy Giuliani and former Massachusetts Gov. Mitt Romney — some in Washington have wondered what exactly makes Tillerson the right person for the job.
Tillerson's life and background appear about as American as you can get: Raised a Christian in Texas, he graduated from the University of Texas, Austin, according to NPR. Tillerson is now married and has four children. Tillerson was a Boy Scout who achieved the accomplishment of Eagle Scout, and even served as the President of the Boy Scouts of America from 2010 to 2012. Sure, it all looks good on paper — but once you start digging, there is plenty from Tillerson's background that raises some eyebrows.
Tillerson Is Basically Besties With Vladimir Putin
For someone who said he's never met Putin, Trump is doing a heck of a job filling his Cabinet with plenty of people who have had direct dealings with the Russian president. Writing for The New Yorker, Steve Coll, author of the 2012 book Private Empire: ExxonMobil and American Power, wrote for The New Yorker that much of Tillerson's success as the CEO of ExxonMobile has been in his exceptionally close ties with Putin. Tillerson was instrumental in forging ties with Russian oil and gas company Rosneft, headed by Igor Sechin — one of Putin's allies. In 2013, Putin gave Tillerson the Russian Order of Friendship — basically Russia's version of a VERY OFFICIAL friendship bracelet. Tillerson's relationship with Russia is a bit too close for comfort, especially amongst mounting evidence that Russia may have interfered with the elections in favor of a Trump victory.
Tillerson's "It's Complicated" Relationship With Climate Change
In a surprising breath of fresh air, Tillerson isn't a hardline climate change denier, unlike so many of Trump's Cabinet picks. That said, he's built his entire career on the fact that, in order for his company to be profitable, he can't kowtow to climate change science. Remember — if the world stops using fossil fuels, that would hit ExxonMobile's bottom line pretty darn hard. It's true that Tillerson will have to cut all ties with Exxon if he's confirmed as secretary of state, including everything from salary to investments — but that doesn't wave a magic environmental wand for Tillerson to abandon attitudes and beliefs that guided more than 40 years of work that favors oil and gas production and consumption — in the face of extensive evidence for climate change and its effects on our planet.
Diplomacy Beyond Corporate Interests
Tillerson and Trump share a similar political background, as in none. Tillerson's lack of any kind of formal diplomatic background makes him a questionable choice for secretary of state. While Trump and his transition team would argue that Tillerson has struck deals worth billions of dollars around the globe, it doesn't necessarily translate into the role of an objective diplomat representing the United States abroad. Speaking to CNN, Connecticut Sen. Chris Murphy laid out the greatest concerns if Tillerson is confirmed as secretary of state:
There is no doubt Rex Tillerson is a successful businessman and a very smart person, but he has proven, many times, his willingness to put oil profits before national interests and handing him the keys of US foreign policy is a recipe for disaster.