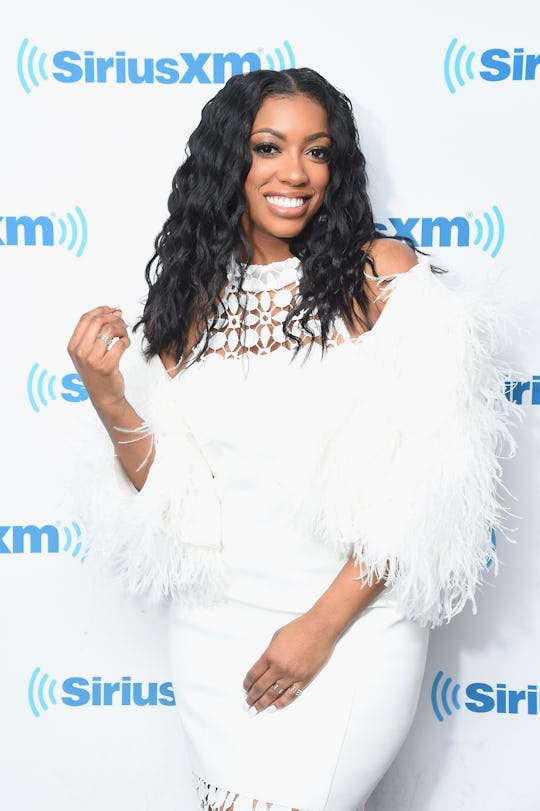 Michael Loccisano/Getty Images Entertainment/Getty Images
'RHOA's Porsha Williams Revealed Her Pregnancy To Her Fiancé In The *Cutest* Way
The Real Housewives of Atlanta star Porsha Williams could not be more excited to have a baby on the way. And after finding out she was pregnant, she somehow managed to contain that excitement long enough to surprise her boo, Dennis McKinley, with the news. So, of course, Porsha Williams revealed her pregnancy to her fiance in the cutest way, and luckily for fans, the most recent episode of The Real Housewives of Atlanta documented it.
During the episode, which aired on Sunday but was filmed in July, Porsha and Dennis celebrated his birthday over breakfast, as the Daily Mail reported. After the meal, an extremely giggly Porsha presented Dennis with a birthday gift that fully-grown men do not typically receive: a pair of teeny-tiny baby sneakers. She couldn't stop giggling, while he had a look of utter confusion on his face — which remained as he opened her second gift, a baby onesie.
"Aren't these cute?" a laughing Porsha coyly asked Dennis, who still looked very confused. Clearly, he wasn't going to figure this out on her own, so she finally told him: "I'm pregnant!" Dennis burst out laughing and quickly got up to hug and kiss Porsha. "Yo, for real?" he asked her, through laughter. "For real!" Williams said excitedly. As Dennis hugged and kissed Porsha, he couldn't stop saying, "wow" over and over.
And as if catching him that off guard wasn't enough proof, Porsha reached into her bra and pulled out a positive pregnancy test. Dennis seemed to be the last to find out the happy news, because while he marveled at the positive pregnancy test, a chef magically appeared and presented him with "a champagne for you, and an apple cider for her." Porsha then admitted to Dennis that she had secretly been drinking apple cider all day. The episode ended with another shot of a still in-shock Dennis happily crying on Porsha's shoulder.
"I have never had someone love me the way that he does. I have never had someone wanna be there for me," Porsha told the RHOA's cameras, speaking about Dennis. "So that's why this pregnancy is like a miracle to me. Because, I'm starting to see all these things that I have prayed for and wanted for so many years actually happen."
Even though this episode just aired this week, Porsha broke the news that she was expecting to fans back in September. She shared the happy news with People, and she mentioned that she waited to tell Dennis that she was pregnant until his birthday, which "was really hard to do." And even though her announcement was joyful, she also shared her fears, since she had a miscarriage before. She told People at the time:
When I found out I was pregnant, I was excited [but] I had mixed feelings. The other feeling that I had beside excitement was fear ... I've had a miscarriage before in my past, which I've also been open about because I suffer with fibroids and had to have a myomectomy ... So just the fear of, "Is the baby going to be okay? Will I make it full term?" All those questions that you ask if you've had a miscarriage before.
And just a few weeks after announcing her pregnancy, Porsha announced on Twitter that she and Dennis were engaged. The last few months have certainly been a whirlwind for the couple, and it will be so exciting when they finally welcome their baby girl.
After experiencing a traumatic c-section, this mother sought out a doula to support her through her second child's delivery. Watch as that doula helps this mom reclaim the birth she felt robbed of with her first child, in Episode Three of Romper's Doula Diaries, Season Two, below. Visit Bustle Digital Group's YouTube page for more episodes, launching Mondays in December.