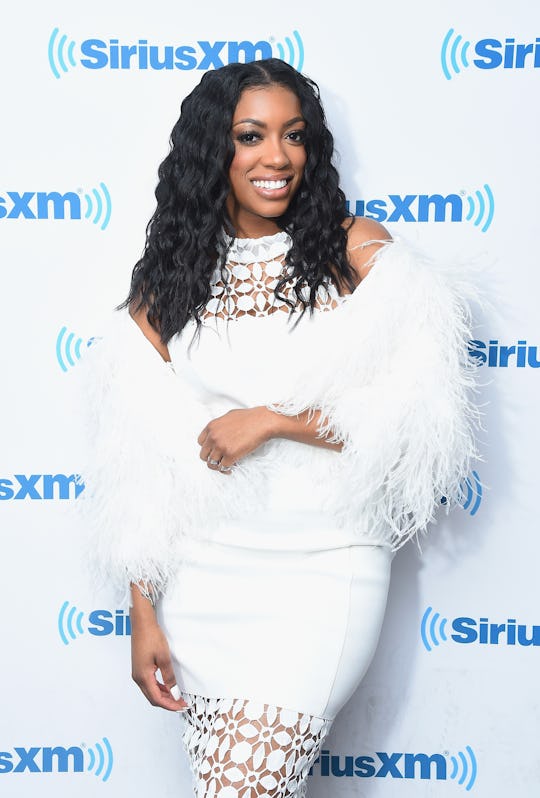 Michael Loccisano/Getty Images Entertainment/Getty Images
Here's When 'RHOA' Star Porsha Williams Will Likely Give Birth
If you're a The Real Housewives of Atlanta fan, you may have already heard that Porsha Williams is pregnant with a baby girl. Hooray! Porsha announced the exciting news on social media earlier this fall, and her followers have been exploding with congratulatory messages since then. So when is Porsha Williams due? Here's everything the reality star has shared so far.
In mid-September, Porsha announced that she and her partner Dennis McKinley were expecting a child together in an interview with People. Since then, she has kept fans updated with her pregnancy milestones. For example, she shared a photo from her baby shower on Sept. 30. Then, on Oct. 15, she posted a video from an ultrasound, where her baby's heartbeat was clearly audible. And earlier this week, she shared a slew of videos from her baby's sex reveal party, where she found out she is expecting a girl. And oh yeah, in the middle of all the pregnancy hype, Dennis proposed to Porsha. "I said YES....," she captioned a shot of the couple showing off her ring, which is how she announced the engagement.
The past few months have been a whirlwind for Porsha, and she seems over the moon to be going through so many awesome life changes.
However, fans still don't know ~exactly~ when Porsha is set to have her little girl. So some guesswork is involved. Most expectant parents wait to announce a pregnancy until they are around three months along because, according to Healthline, 10 to 25 percent of pregnancies result in miscarriage and about 80 percent of miscarriages happen in the first trimester. So if Porsha followed the custom, and she became pregnant three months before announcing the news in September, it would mean she became pregnant sometime in June, putting her due date around March, 2019.
Porsha experienced a miscarriage six years ago, so it would also make sense if she was actually further along in mid-September when she announced her pregnancy. That would put her due date even earlier than March, meaning Baby McKinley could be here sooner than you think.
Porsha opened up about her miscarriage in an interview with People in September when she announced her pregnancy. "When I found out I was pregnant, I was excited [but] I had mixed feelings. The other feeling that I had beside excitement was fear," Porsha said at the time. "I've had a miscarriage before in my past, which I've also been open about because I suffer with fibroids and had to have a myomectomy ... So just the fear of, 'Is the baby going to be okay? Will I make it full term?' All those questions that you ask if you've had a miscarriage before."
And Porsha's miscarriage history is motivating her to do everything she can to savor each moment and to make sure her baby is healthy. For one thing, she transitioned to a whole foods plant based lifestyle last year, and she is keeping up with her new vegan diet throughout her pregnancy, according to Bravo.
But she's still been waxing poetic about her excitement to meet her baby girl for weeks. In an interview with Bravo's The Daily Dish in September, she explained what she's most excited about:
Just having a little mini me. Like, a little being that I will love forever and I know who will be attached to me and love me forever. I think that is just the sweetest thing, to be able to experience unconditional love.
I know I can't wait to see Porsha's pregnancy chronicled on the next season of Real Housewives of Atlanta.