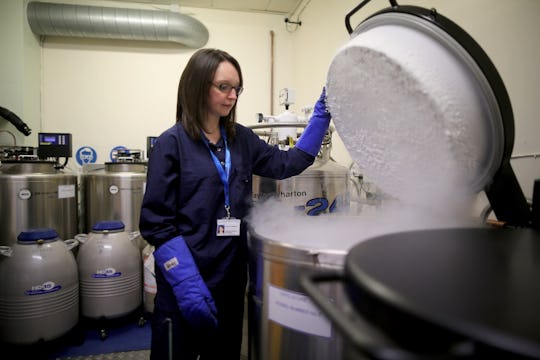 Christopher Furlong/Getty Images News/Getty Images
Rhode Island Now Requires Insurers To Cover Some Fertility Treatments
In what is reportedly the first legislation of its kind, Rhode Island will now require insurers to cover fertility treatments for some women. Specifically, the state will ensure that private insurers cover "fertility preservation," namely for cancer patients whose treatment may render them infertile. The new law will not be expanded to people with Medicaid or Medicare, but it's still a good sign that at least some states are considering women's health care and fertility a priority.
Dr. Eden Cardozo, a reproductive endocrinologist at Women & Infants' Fertility Center, who came up with the idea for the legislation, told the Providence Journal that about 100,000 people under the age of 45 are diagnosed with cancer in the U.S. every year.
In almost 90 percent of those cases, the treatment for cancer results in infertility. In Rhode Island, there are about 375 cases of cancer diagnoses for people under the age of 40 each year, and about 63 percent of them are women. The new law would allow those women with private insurance a chance to have their eggs frozen before undergoing treatment.
One added benefit of the new law would also benefit transgender people with private insurance, since hormone replacement therapy also can result in infertility. The new law is expected to go into effect immediately for women between the ages of 25 and 42 years old.
Although it will only affect women and transgender people with private insurance for now, the new law is one piece of good news for women's health care after months of debate in Congress about repealing and replacing the Affordable Care Act.
Outside of Washington D.C. though, doctors and some states are still fighting to ensure that women and transgender people might be able to afford infertility treatments, even if they are largely left out of the discussion surrounding the repeal of the ACA and Republican-led health care bills. In fact, in Rhode Island, it was mainly doctors who made sure the legislation was pushed through.
Ashley R. Stuckey, MD, a gynecologic oncologist and breast surgeon at Women & Infants and Kent hospitals and assistant professor of obstetrics and gynecology at the Warren Alpert Medical School, was one of the professionals who testified in favor of the bill. Stuckey said in her testimony:
A diagnosis of cancer in these young patients is devastating, which is compounded by the likelihood that their treatment, which may include sterilizing surgery, chemotherapy, or radiation, will render them infertile. At the time of a cancer diagnosis, time is of the essence.
Treatment usually begins as soon as possible after a cancer diagnosis, which means that patients don't exactly have the time scramble for a new insurance plan or find a way to afford fertility preservation. Stuckey also told a story of one of her patients who was intent on securing funds for fertility preservation that she postponed treatment, despite the fact that her health could be at risk. With the new law, that won't have to happen.
Hopefully, Rhode Island will set a precedent for states, and one day maybe even Congress, so that more female cancer patients and transgender people will have the chance to both get the treatments they need and plan for a family.