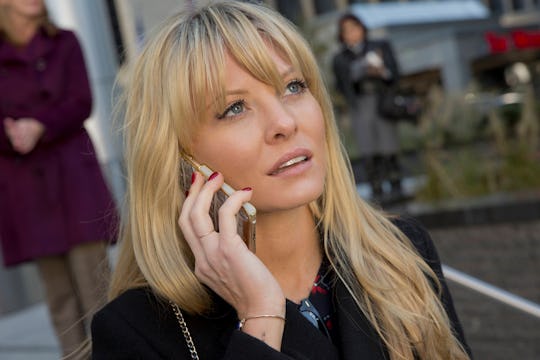 Chuck Hodes/FOX
Rhonda Loses The Baby On 'Empire,' & Her Assailant Is Still Unknown
For everyone who has anxiously waited since the fall finale to find out if Rhonda survived on Empire, we finally have our answer. Rhonda is a fighter. In the opening sequence of the midseason premiere, the mystery assailant with the killer pair of Louboutins is shown leaving Rhonda for dead. The fall is tragic, because while she doesn't die, Rhonda loses the baby on Empire.
Before we learn that Rhonda lost the baby, we watch her fight for her life in her new home courtesy of Lucious. Covered in blood and moaning in pain, Rhonda crawls toward her cellphone. She's devastated to find that it's shattered and useless. So she resourcefully throws the phone into the door's window, shattering the glass and setting off the alarm. She prays for her baby to live, even if she doesn't survive.
When we see the Lyon family gathered together in the hospital, we learn the outcome of the assault. While Rhonda is okay, heartbreakingly, her baby did not survive. We get a quietly devastating scene between Andre and Rhonda in her hospital room. Rhonda blames herself for falling down the stairs. She's lost all faith in God because their baby didn't live despite her prayers to save his life. Andre tries to reassure her that God saved her life. Rhonda is too overwhelmed by grief over the loss of her baby to care about her own survival.
What does the loss of Rhonda and Andre's baby mean for the future of Empire? Does this secure Anika and Hakeem's secret baby's place as the future heir of the company? This turn of events also brings up some interesting questions regarding how Rhonda and Andre will cope with their tragedy, and how it will affect their efforts to take over Empire Entertainment. Will they be too broken to try to make any power moves, or will they be even more driven to take charge?
The story of how Rhonda and Andre will handle the tragedy of losing a child is sure to be one of the more emotionally powerful stories of the remainder of this season. Hopefully something good will come their way, because this is one couple that doesn't need any more adversity in their lives.