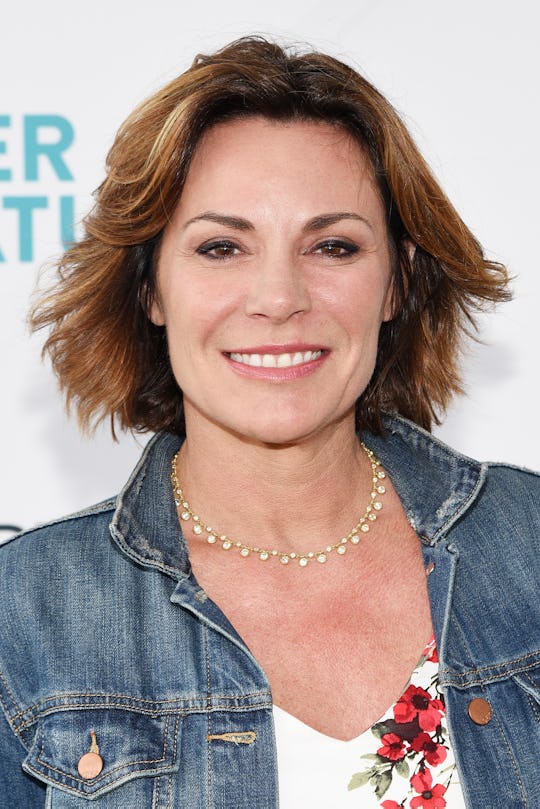 Mike Pont/Getty Images Entertainment/Getty Images
You Need To Read The 'RHONY' Cast Reactions To Luann's Divorce
It took pretty much forever for The Real Housewives of New York cast members to accept Luann's marriage to Tom D'Agostino — and to stop teasing her about her copious wedding celebrations. Which is why it's so sad to hear that Luann and Tom are divorcing. In a rare show of solidarity for the women, the RHONY star reactions to Luann's divorce are totally supportive.
Of course the responses are heartfelt, but most of Luann's co-stars spent a lot of time trying to either convince Luann not to marry Tom or make sure she remembered that he had dated a lot of women in their social circle (including Sonja and Ramona). Many of them seemed to have seen this divorce coming, which makes their responses to the news all the more touching.
Luann announced the divorce on Twitter early Thursday afternoon, writing, "It's with great sadness that Tom & I agreed to divorce. We care for each other very much, hope you respect our privacy during this sad time!"
It was rumored that Luann and Tom weren't doing so great for some time. Recently, it was reported in The New York Post's Page Six that she and Tom were spotted fighting in a Manhattan restaurant. (She later denied the incident on Watch What Happens Live with Andy Cohen.) Tom also referred to his wedding ring as a "dog collar" to Sonja and company this season on the show. And then of course, there was his previous infidelity and the gossip that he had been seeing other women this season on the show, too.
Here's how the women all responded to the news of Luann's divorce.
Ramona Singer
In addition to writing on Twitter, "I am so sad for you," Ramona gave an official statement to E! News. She said, "My heart breaks for her. Luann went into this wanting to make it work. I've never seen her happier."
Bethenny Frankel
The Skinny Girl founder said on an episode of Watch What Happens Live this week, "I really feel badly for her, because she's been living this totally out loud. I think it's personal. They got married and I decided to stay out of it after that."
Sonja Morgan
Morgan also talked exclusively to E! News and said of the divorce news, "I told Luann I'm there for her whether this worked out or not and here I am. Men come and go, and at the end the day, we have our girlfriends, don't we?" She added, "I wanted it to work out, but I want her to know I'm here for her."
Dorinda Medley
Dorinda was the only cast member who was actually invited to the now infamous wedding in Palm Springs. She said of the sad news, "It's always sad when a marriage doesn't work out," she said. "I wish the best for both of them."
Tinsley Mortimer, who certainly knows what it's like to have her love life play out in Page Six, hasn't made a statement yet. Carol Radziwell, who was really concerned about Luann's state of mind earlier this season, has also stayed characteristically away from the gossip.
Whatever you think about Luann and her relationship with Tom, Dorinda has a point: it's terribly sad when a marriage doesn't work out. And Luann definitely was so giddy and thrilled to be a bride — and defended Tom no matter what — that's it's disappointing to know it's over.
There's only one thing fans can know for sure about this divorce news: it likely hurts way worse than a drunken fall in the bushes. Hopefully fans, Andy Cohen, and her fellow cast members will go easy on Luann at the reunion.