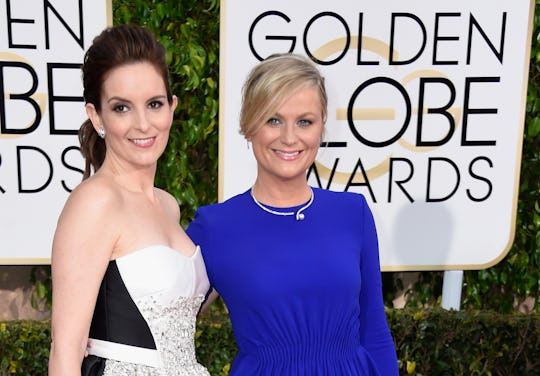 Ricky Gervais' Golden Globes Monologue Has People Begging To #BringBackAmyAndTina
Ricky Gervais hosted the 2016 Golden Globes, and the reaction has not been entirely positive. In fact, many fans are taking to Twitter to beg for Tina Fey and Amy Poehler to come back. The dynamic duo hosted the Golden Globes for the previous three years, which was a total win for women in comedy. Their fun jokes and undeniably feminist standpoints were a welcome addition to the awards show.
Ricky Gervais, however, seems to be on the opposite end of the spectrum when it comes to championing feminism. In fact, many of his jokes in the opening monologue were directly offensive to women. Sure, he's famous for his crass humor and somewhat tasteless jokes, but that doesn't mean people are going to be happy about it. From jokes about Transparent to what seemed like a bit of a mockery of Jennifer Lawrence's demand for equal pay in Hollywood, Gervais has been seriously upsetting feminists, and the show hasn't even been on a half an hour yet.
#BringBackTinaAndAmy is trending on Twitter as fans across the country lament having a chauvinistic host to the first awards show of the season. And can you blame them after seeing this?
Here's a sampling of what people have to say:
Well, here's to hoping that Hollywood will get the message, and Tina Fey and Amy Poehler will return to hosting the Globes in 2017.
Images: Frazer Harrison/Getty Images