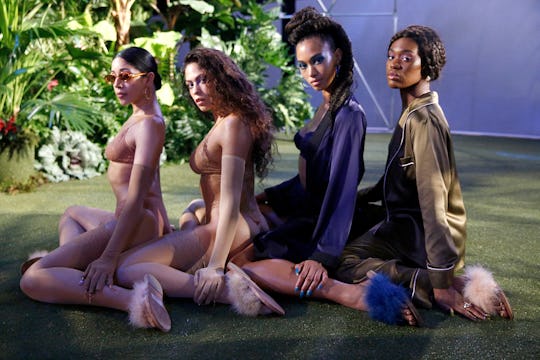 Brian Ach/Getty Images Entertainment/Getty Images
Pregnant Models Slick Woods & Janina Thompson Walked Rihanna's NYFW Lingerie Show
Earlier this week, Lily Aldridge made headlines for walking Brandon Maxwell's New York Fashion Week runway while five months pregnant. And by the end of NYFW, the pregnant model count had gone up thanks to the visionary that is Rihanna. At Rihanna's Savage x Fenty NYFW show, two pregnant models, Slick Woods and Janina Thompson, walked the runway. And OMG, they looked so incredibly fierce.
Wednesday night, aka the last night of New York Fashion Week, Rihanna debuted her Savage x Fenty lingerie line in a show at Brooklyn Navy Yard, the Huffington Post reported. If you're a fan of Rihanna's, you know that Rihanna is a fan of Slick Woods, 22. Ever since the two women met, Woods has been a muse for Rihanna, especially when it came to designing her lingerie line, W magazine reported. At the Savage x Fenty lingerie show, Woods strutted the grass-covered runway in a strappy black and lace one-piece, black pasties, thigh-high stockings with a heart-and-lace design, and diamond-encrusted high heels. As if walking down a grass runway wasn't hard enough, leave it to Slick Woods to manage to do it with high heels, a pregnant belly, and a super fierce look on her face.
The other pregnant model to walk the runway was Janina Thompson, as identified in Savage x Fenty's Instagram story. And Thompson looked fierce AF. She strutted the runway in a plunging, sheer white leotard adorned with a flower, sheer white elbow-length gloves, and bare feet. According to Thompson's posts on Instagram, she is about eight months along, and this will be her second child. She already has a girl, and she is expecting a baby boy. Yas, Janina!
Many fans took to Twitter to praise the two women for strutting their pregnant selves down the runway.
Based on photos from Wednesday night, the vast space at Brooklyn Navy Yard was transformed into a magical garden for the fashion show. The floors were covered in grass, large leaves served as backdrops, and tall trees stretched all the way up to the ceiling. Additionally, there was a waterfall pouring off of a small mountain into a little lake, as well as people-sized terrariums; the contrast between the two gave the illusion that the models were simultaneously giants and Tinkerbell-sized. Perhaps the juxtaposition was meant to draw attention to Savage x Fenty's focus on size inclusivity. Women of various shapes and sizes — not to mention, ethnicities — walked at the show, sending an important message to the fashion industry, which has a history of favoring tall, thin, and white models.
A lot of people were moved by the display of diversity in the show, and they shared their feelings on Twitter.
According to The Independent, other notable models to walk in the Savage x Fenty show included Gigi Hadid, Bella Hadid, Joan Smalls, Duckie Thot, and... Rihanna! At the end of the show, the models stood in a formation, holding hands with each other, as seen in a video posted on Twitter. A mysterious woman strolled in the garden in a strapless brown dress with a sheer brown veil over her face. She removed the veil to reveal her face, and underneath was Rihanna looking gorgeous as ever, wearing a pair of fabulous sunglasses and a huge, proud smile on her face.
It's so important to keep fighting for diversity in the fashion industry, and Rihanna managed to do both that and remind the fashion world that pregnancy should be seen as an asset, not a disadvantage.