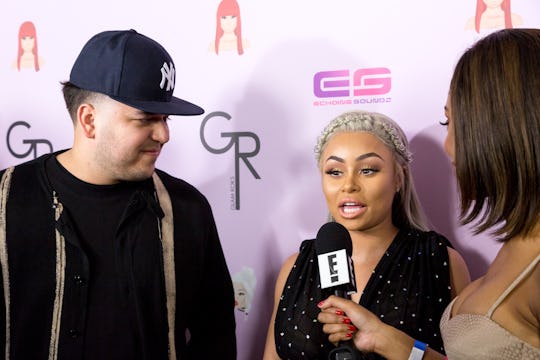 Greg Doherty/Getty Images Entertainment/Getty Images
How Rob Kardashian & Blac Chyna's Will Share Custody Of Dream
Despite intense media attention and an active restraining order, Rob Kardashian and Blac Chyna's custody agreement has reportedly been finalized. According to TMZ, the exes have come to a co-parenting arrangement and will continue to share 50/50 physical custody of their 8-month-old daughter, Dream.
Citing sources close to Kardashian and Chyna, TMZ reported that they've been "operating under an unwritten arrangement where they each are entitled to physical custody 50% of the time," which was described as "loose by consent." With baby nurses and nannies present — who also reportedly drop Dream off between her parents — Kardashian has had their daughter four days a week recently, while Chyna has had her the other three days, according to TMZ.
Although the former couple is in the midst of a messy split that may have legal ramifications, TMZ reported that they have "no plan to go to court and ask a judge to make a formal child custody order," but will likely put their current arrangement in writing.
Earlier on Monday, Chyna was granted a temporary restraining order against Kardashian, according to E! News. During the legal proceedings, the court stressed its primary concern was for the well-being of the child they share.
"The court is not in the business of separating biological parents from their children," L.A. Superior Court Commissioner James E. Blancarte told reporters on Monday, according to E! News.
News of Chyna's restraining order against Kardashian and their custody agreement comes less than a week after the 30-year-old father went on a long and explicit rant on social media, posting a series of nude photos of his ex-fiancée (allegedly without her consent), accusing her of cheating on him with other men, and claiming she had allegedly used illegal drugs in the presence of their daughter.
Shortly after, Chyna reportedly alleged that Kardashian had physically abused her, according to TMZ. "Rob has been violent with me in the past and I am afraid to be around him," she said last week, according to TMZ. She reportedly said that Kardashian allegedly shoved her "aggressively" by the side of her arm and hit her on the thigh.
Romper previously reached out to both parties' reps for comment on the allegations but did not immediately receive a response.
While this not the first time Chyna and Kardashian have revealed personal details about their rocky relationship on social media, the allegations surrounding this latest clash are much more serious. And fortunately, for the sake of Dream's well-being, the formerly engaged couple have been able to settle on a co-parenting compromise that will hopefully work well for their tricky situation.