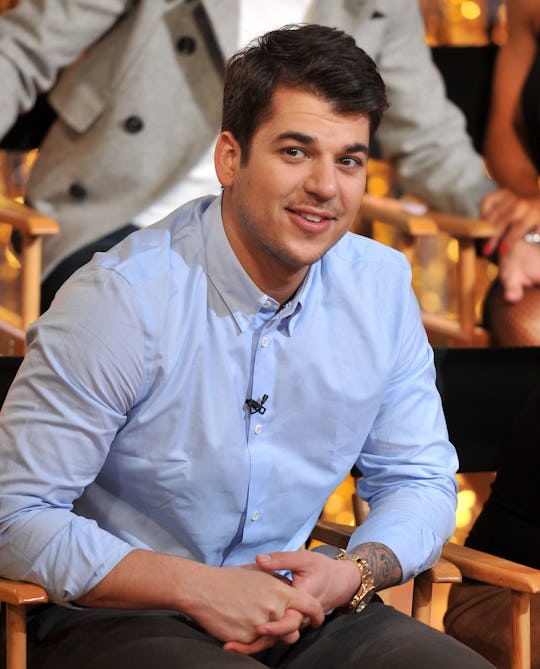 Stephen Lovekin/Getty Images Entertainment/Getty Images
Rob Kardashian Shared A Precious New Photo Of His Daughter & WOW, She's Totally His Twin
It's been a minute since the public has seen any photos of Dream Kardashian and many people have wondered what's up with Rob Kardashian and Blac Chayna's daughter. Well, wonder no more! In a rare new photo, fans can see that Rob Kardashian's daughter Dream is basically her dad's twin and, honestly, it's way too cute.
Ever since Blac Chyna and Rob Kardashian's split, news of their daughter, Dream, had pretty much extinguished along with their relationship. The couple had originally begun dating in January 2016 with their engagement announced on Instagram three months later, according to E! News. And on Nov. 10, 2016, the then-couple welcomed their baby girl, Dream Renée Kardashian, into the world, as TODAY reported at the time.
It was clearly a relationship that moved quickly and, maybe, too quickly for Chyna and Kardashian. Since the couple's split, some people have expressed concern for Dream, wondering how her parents' dynamic and the way it's been captured on social media will affect her. After a video of Blac Chyna's Easter fight, in which a stranger allegedly touched Dream, went viral, Kardashian took his ex to court for custody, according to In Touch Weekly.
Although that's still ongoing, it's clear that Kardashian is still enjoying time with his now 1-year-old daughter, who will celebrate her second birthday this fall.
Kardashian didn't say much when tweeting the picture of Dream, only adding a few angel-smiley emoji for the caption. In the photo, Dream is in a simple black top with her curls popping and an adorable smile on her face.
Fans were quick to comment on Dream's strong resemblance to her father. "Oh she looks just like you! I'm so glad," one fan commented.
"She's so grown... She look's like [her] daddy," a user said.
Another user noted Dream's hair, commenting, "I have not seen this little girl in a long time. she cute & hair poppin."
And one user noted Kardashian's relationship with his daughter, commenting, "Love how special she is to you! She clearly is [a] daddy's girl."
For comparison, look at this throwback picture Kris Jenner posted of Rob and Khloé Kardashian.
It's no surprise that Dream seems like a daddy's girl, considering her father is clearly in love with her. Kardashian has bragged about Dream plenty of times on social media in the past.
Early in August 2018, Kardashian tweeted a pic of Dream sitting on a swing with her hair in adorable ringlets, captioned, "My babyyyyyyy girl".
Kardashian's obvious love for his little girl has been commented on by his family as well. According to Entertainment Tonight, Khloé Kardashian wrote about her brother on her blog and app, gushing,
My brother Rob is like my father in so many ways -- his sense of humor, silly nature, the way he loves and respects family. My dad would do anything for his kids and my brother is the same way for Dream. I'm so proud of him!
Despite coming from a well-known family, Kardashian largely keeps himself out of the spotlight and it's a decision he decided to follow in raising his daughter. According to Hollywood Life, a source told the outlet in October 2016 that, "Rob told Chyna he can't stand all the attention and doesn't want his daughter to be raised in the spotlight like several of his sisters are doing their children."
It's a decision that makes a lot of sense for any parent and Kardashian isn't alone in it. Recently, after receiving a barrage of negative comments, his own sister, Kylie Jenner, decided to remove pictures of baby Stormi's face from the internet.
Outside of the Kardashian-Jenner family, celebrities like Blake Lively and Ryan Reynolds have been notoriously private about their children. Given that the spotlight can be pretty demanding for an adult, no one can blame celebrity parents for wanting to keep their children away from all of that.
The custody battle between Kardashian and Chyna has not come to a close and it's honestly a toss up as to how the case will go, and frankly, only their business. For now, though, it's clear that Kardashian is still able to spend time with Dream and fans are living for all these adorable pictures of her.