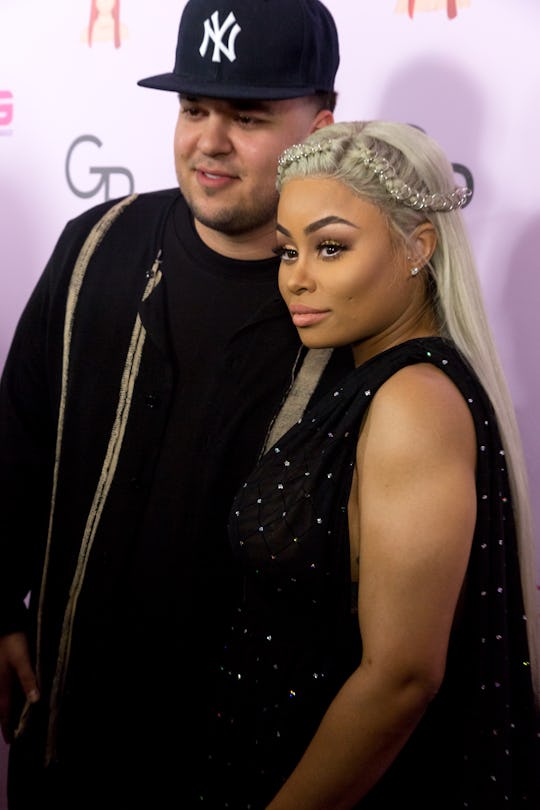 Greg Doherty/Getty Images Entertainment/Getty Images
Rob Kardashian's Photo Of Dream & Blac Chyna
I'm not going to lie, guys; at this point in 2016, I'm getting pretty desperate for a little good news. Between the terrorist attacks, the celebrity deaths, the political divisiveness; ok, maybe I need a bit of Kardashian escapism. So sue me. Maybe this picture Rob Kardashian shared of Dream and Blac Chyna cheered me up a bit. Does that make me a weirdo? Who cares.
Rob Kardashian himself has been having a year of real ups and downs; the Keeping Up With The Kardashians star got engaged, became a father, started his own reality TV series, and unfortunately landed himself in the hospital to top it all off. But let's give Kardashian a little credit here; the guy just keeps on keeping on. Kardashian was hospitalized in Los Angeles on Wednesday due to health complications associated with diabetes, after recognizing that he wasn't taking particularly good care of himself. Fiancee Blac Chyna and mom Kris Jenner rushed to be by his side, despite some recent friction between Chyna and Kardashian that have caused the two to live apart since baby Dream was born on Nov. 10. Sometimes all it takes is a little health scare to remind people of what's important, though; Kardashian posted a picture of Blac Chyna and baby Dream that might prove he's ready to prioritize his leading ladies.
The 29-year-old star of Rob & Chyna snapped a pic of his fiancee and baby girl with dog filters, and captioned the adorable photo:
My babies 😍😍 look at my babies chunky face lol 😭😍💕
Kardashian, the brother of famous Kourtney, Khloe, and Kim, also shared a sweet pic of his baby (with a shocking amount of hair for a seven-week-old baby) on her own in a little pink nightgown with the caption, "Goodnight"
Kardashian remains in hospital for now, and a source reportedly told People that he is committing to a healthier lifestyle in the new year (his diabetes flare up was reportedly related to some poor diet choices, as well as depression over recent conflict with Blac Chyna). He was diagnosed with Type-2 diabetes in December 2015 after struggling with a weight gain that saw him lose touch with his friends. On a recent episode of Rob & Chyna, he told former brother-in-law Scott Disick:
When this sh– freaks me out I want to go into hiding. I mean, it has to be the right time. I have to feel comfortable… It's been years and years and years of not responding to any messages. I feel embarrassed … and ashamed.
Kardashian has credited Blac Chyna with helping him work through some of those negative feelings and encouraging him towards a healthier lifestyle. Sure, they might be a "reality" couple; but in reality, isn't it sort of nice to see that they support each other and are trying to work towards a happy future with their baby?
Or has 2016 just turned me into a desperate optimist?