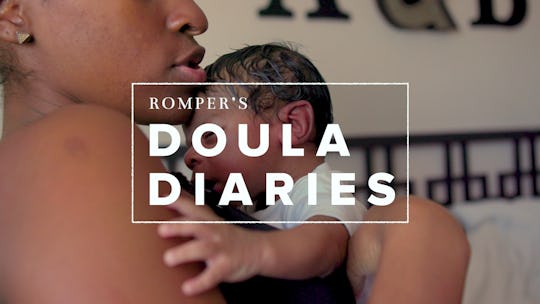 Romper
Romper's 'Doula Diaries' Season 2 Shows The Beauty & Diversity Of Birth
Despite there being so much that is universal about the pregnancy experience, every birth story is different. Last year, Romper launched Doula Diaries, our video series showcasing the people who help others give birth. And now we're back with Doula Diaries, Season 2, taking viewers inside four more incredible, moving, and very different journeys of women bringing a baby into the world, with the help and support of another woman, her doula.
Season 1 of Doula Diaries followed four doulas and their clients through a diversity of stories, helping to dispel the myth that doulas are a luxury available only to affluent white women, and therefore an unnecessary or superfluous part of birth. And Season 2 continues that mission, showcasing a variety of people with different backgrounds and stories. In Episode 1, a doula named Lynsey has been chosen by Brittany, a military wife who understands all too well the challenges military families face when having a family — from their partner being deployed, to their family being thousands of miles away, to their birthing options being limited. As Lynsey explains, military families in particular need to put in place the support system they need when it comes time to meet their child. In this first episode, you'll meet Brittany and her husband Aaron, both active-duty service members who were preparing for the birth of their first child and chose a doula and two midwives to help them with their delivery: an unmedicated water birth at home.
"I really wanted to exercise having my own options."
Related: Why Military Mamas, Especially, Need Doulas
"When I told my military friends I was having a home birth they thought I was crazy," Brittany shares in the episode. But she and her husband knew what they wanted, and they also knew that a doula could help them have the experience they knew was right for them. "I really wanted to exercise having my own options," Brittany says, and it's that statement right there that really gets at the heart of why many women choose doulas, and why the option of that kind of support is something that every woman deserves.
You don't have to go far to understand why we're focusing on the health and safety of women giving birth.
As defined by well-known and respected doula certifying organization, DONA International, a doula is "a trained professional who provides continuous physical, emotional and informational support to a mother before, during and shortly after childbirth to help her achieve the healthiest, most satisfying experience possible."
In other words — a doula is there to support a mother. For pregnant people on Medicaid, Caesarian rates were significantly lower for those who had access to doula services in a 2013 study published in the American Journal of Public Health. Some states, like Oregon, Minnesota, and New York, have begun to cover doula services for people on Medicaid. Having a birth worker focused on the mother leads to better birth outcomes, and is often described as immensely important to the people they help through the moment Brittany describes as the hardest of her life.
Likewise, for the doulas, being allowed into the homes and lives of families as they undergo this experience is a gift — and it can't be overstated how honored we are to be there with them. As many people who have given birth can attest, the folks in the delivery room come and go: some clocking out after hour eight, never to be seen again, replaced by new faces. But a doula will be with you, advocating for you, from the start, and then still there at hour 15, and still there at hour 24... no matter how long it takes. It's almost impossible to describe what that kind of support means.
You don't have to go far to understand why we're focusing on the health and safety of people giving birth. This year has seen a slew of reporting shedding light on the shocking state of affairs in the United States, from this month's Washington Post article looking at why the maternal mortality rate has been climbing in this country (and what one state is trying to do about it), back to March's ProPublica report diving deep into a healthcare system that they say "focuses on babies but often ignores their mothers," leading to the highest maternal mortality rate in the developed world.
Why did we chose to view birth stories through the lens of doulas? That's a great question! Since our birthday a little over three years ago, a core tenet of Romper has been inclusivity, and a respect for moms as the experts on their own children. We also believe that there's never been a more important time to focus on advocacy for the people giving birth; to focus on the strangely revolutionary idea that the people giving birth will do better if we offer them support, listen to them, and stay with them through labor to that incredible first moment when they meet their child.
"He opened his eyes and looked at me," Brittany recalls in the episode, "and it was something I can't even describe... it was amazing."
Watch Doula Diaries, Episode 1 below, and visit Bustle Digital Group's YouTube page for the next three episodes, launching every Monday starting November 26.