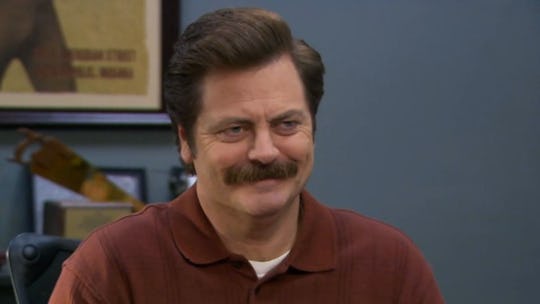 NBC
Here's What You Need For A Ron Swanson Halloween Costume Leslie Knope Would Love
Even though Parks And Recreation ended in 2015, once a fan, you're always a fan. And if you're looking to celebrate your favorite sitcom, a Ron Swanson Halloween costume may be the perfect way.
Ron Swanson, played by Nick Offerman, is the hilariously deadpan director of the Pawnee City Parks and Recreation Department. He oversees the operations and going on of the department, all while making viewers love him for his introverted ways, obsession with breakfast food, and penchant for marrying women named Tammy. Who wouldn't agree with his saying (one of many) that, "If there were more food and fewer people, this would be a perfect party?"
If someone in your friend group already has plans to dress as Ron, consider taking a unique angle: you could be Ron during his Tammy intervention, complete with robe, or drunk Ron dancing after drinking too much snake juice. If you want to make it weird, choose a Full House Ron Swanson character from that viral deep fake video. But if you're looking to create the perfect eating-ribs-in-his-office Ron Swanson, here's everything you'll need — not just to pull it off, but to really do him justice.
We only include products that have been independently selected by Romper's editorial team. However, we may receive a portion of sales if you purchase a product through a link in this article.
This article was originally published on