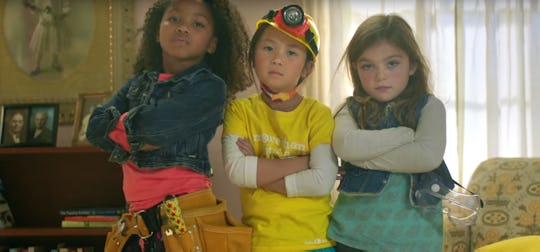 "Ruby Rails" Is A New GoldieBlox Action Figure, And She Is Another Important Step For Gender-Equal Toys
Three years ago, engineer Debbie Sterling began a Kickstarter campaign to create toys for girls and gender non-conforming kids "the way Legos and Erector sets have inspired boys." She noticed the severe lack of women in the STEM fields and decided to take it upon herself to find a way to reach out to these young children so they realized that they, too, could be badass engineers and scientists. Fast forward to 2015 and GoldieBlox is now a brand well-beloved by parents and children alike, creating everything from colorful and elaborate construction sets to rad clothing emblazoned with the phrase: "More than a princess."  
Their latest creation, just in time for the holidays, is a new action figure (or doll — we all know those are literally the same thing, right?) that blows Barbie out of the water. Her name is Ruby Rails, and from her commercials, it seems like there is nothing that she can't do. The company already had one action figure, the aptly named Goldie Blox who can be purchased with her own zipline (because what little girl doesn't want a zipline?!) 
Ruby Rails is their newest addition, and if you see her commercial, it's hard not to want one of your very own, no matter what age or gender. In it, you'll see Ruby taking the place of action hero roles normally reserved for men, like The Matrix's Neo…
"Macho boxer" Rocky Balboa
William Wallace from Braveheart
...and of course, 007 herself. 
The promo video also points out some of the reasons why we need gender-equal toys:
The company also brings attention to this matter in a recent blog post, stating that, while we may feel like there are more female characters on the big screen, "the ratio of male-to-female characters in film has been virtually the same for 60 years," and that of "a list of the top 500 films of all time, ranked by box office success, only 1% of films star women of color," which is pretty pathetic — and deeply problematic — considering women of color make up 18% of the U.S. population, and more than 1/3 of the nation's female population. Additionally, "only one film – not 1%, but just one single film – out of 500 was directed by a woman of color." In short, Ruby Rails needed to exist ages ago, and we're glad she finally does.
GoldieBlox isn't the only company working toward gender-neutrality for children's products. There are dozens of clothing lines these days putting out gender-neutral clothing for kiddos, and Target recently made the switch to get rid of gender signage in their toy aisles.  And for those who remain unconvinced at the positives of gender neutral parenting, science has already proven that gender-neutral toys empower all children. 
Moves like these are essential if we're ever going to truly reach gender and racial equality. While to some Ruby Rails might be seen as "just a doll," to a young child, she will be a best friend, a manifestation of their dreams, and the heroine they hope to someday be.
Images: GoldieBlox/YouTube (8)