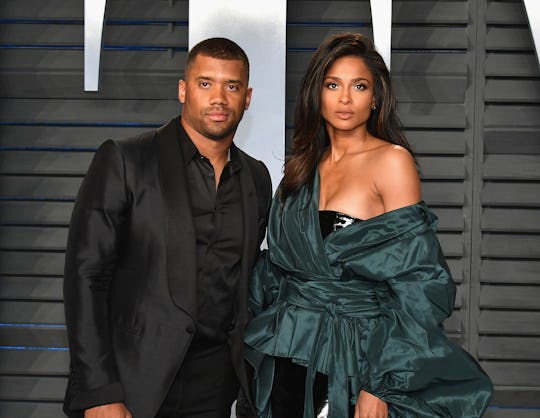 Dia Dipasupil/Getty Images Entertainment/Getty Images
Russell Wilson Shared The Sweetest Family Photo In Honor Of Ciara's 33rd Birthday
Russell and Ciara Wilson are arguably one of the cutest couples in Hollywood. Case in point: Russell Wilson shared an adorable family photo in tribute to Ciara's 33rd birthday on Thursday.
If you know anything about Ciara, you're probably already aware that her path to romantic happiness was a bit bumpy. Ciara, for instance, was in a tumultuous relationship with the rapper Future, who also happens to be the father of her 4-year-old son, Future Jr. The two were even engaged to be married, but Future called it off sometime in 2015 amid cheating rumors. Making matters worse? The broken engagement came just three months after Ciara gave birth to the couple's son.
Sadly, the heartache didn't stop there. The exes had a drawn out custody battle over Future Jr., a drama that didn't end until January 2017.
The good news? Ciara started dating NFL star Wilson in spring 2015, and they tied the knot in July 2016. And in April 2017, the two welcomed their first child together, Sienna Princess Wilson.
Of course, Ciara's good fortune didn't happen out of nowhere — it's clear she took to the time to find someone who shares her family-oriented values. And Wilson is the definition of a family guy, a sentiment that's evident in his 33rd birthday message to Ciara on Thursday. He wrote, according to Instagram:
My Love... every day you bring love, joy, peace, patience, kindness, goodness, and so much faith to our family and today is just another special day that we get to celebrate having you in our lives. Happy Birthday Baby. You just keep getting younger. I Love You. @Ciara
So cute, right? I love how Wilson kept the focus of this post on their family, and all of the great qualities Ciara brings to the table.
Wilson and Ciara's sweet relationship should come as no surprise to people who've followed their story, however.
" ... the cool thing about us is that we're equally yoked," Ciara told Cosmopolitan about the couple's easy partnership. "It makes a difference when you share the same views. We were able 
to be lock and step from day one."
Wilson is as equally complimentary of Ciara. He told Alaska Beyond magazine, according to Bona:
She's the best mother. She reminds me of my mom. Just how much love she gives to our kids, and to people in general. I'm a warmhearted person, I think, but when I met her and got to be around her more and more, she made me better. That's what you want in love, someone who can make you better.
As for Ciara's upcoming year, the mom-of-two won't have a lot of downtime. From an upcoming tour to supporting Wilson throughout football season, Ciara has a lot on her plate these days. "Every day's a blur," she told Cosmopolitan. "There's so much happening when you have two kids and work."
Luckily for Ciara, she'll get through these hurdles with Wilson's help. It's clear these two are a team, after all.