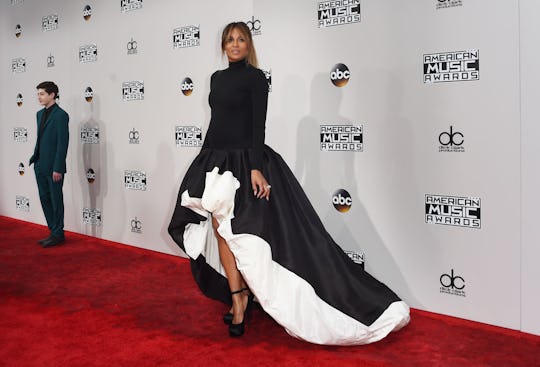 VALERIE MACON/AFP/Getty Images
Russell Wilson Tweets Ciara & Her Baby Bump At The AMAs & It's Absolutely Adorable
Ciara showed up at the American Music Awards (AMAs) sporting one very exciting accessory: her growing belly. According to her husband, Seattle Seahawks quarterback Russell Wilson, it's the "perfect plus one." (Let the record show that I agree so hard.) Wilson tweeted Ciara and her baby bump are at the AMAs and for a night filled with firsts, his tweet is probably the most exciting of the announcement of the night, TBH. When the entertainer, artist, performer, and soon-to-be mom of two walked the red carpet ahead of the show, she stopped to talk to E! News Jason Kennedy about all things pregnancy:
I'm feeling great, I've finally gotten to a place where I feel almost normal. It was a bit of, I don't want to throw up but I don't feel regular, for awhile. That's almost worse, you'd rather just throw up and get it done! But I'm feeling good and I'm happy to be here tonight.
Speaking candidly about her experiences so far with morning sickness this time around, Ciara said,
You've gotta push through it and be strong. I think when I'm working I don't feel anything at all. I was just dancing in New York and I didn't even feel like there was a baby in my stomach. But then when I get home and I sit down and have a good meal, I'm like... oh.
Ciara and Wilson made their pregnancy announcement official on the heels of their wedding and on the singer's 31 birthday. Taking to Instagram to share the news with fans, Ciara said:
On this special Birthday I received an abundance of love from friends and family.. and I'm excited to Finally share one of the Greatest Gifts of All that God could give....
Her husband also added: "The Greatest Blessing of All. Forever Grateful. #BabyWilsonOnTheWay," which, if you ask me, makes their announcement the most consummate social-media reveal ever.
Before the show kicked off, Ciara told Kennedy that she's been getting by this time around thanks to water with lemon. She said:
Water with lemon has been my thing. I have moments where I drink water with no lemon and again I'm like... oh. I'm trying to find my rhythm. I also love huevos rancheros in the morning right now, and Acai bowls. I love to eat and I enjoy it and I take advantage of it when I'm carrying.
Her take on enjoying herself is largely refreshing, not just because she's a celebrity, but also because Ciara (whose last name is Harris) is no stranger to scrutiny. Just after announcing her pregnancy, rumors swirled that the singer "wasn't over" her ex, Future, which, no matter how you slice it makes no sense. And assuming that Ciara and Wilson had not only wed but also were happily expecting together in some type of last-ditch effort to piss her ex off is downright confusing.
But on the AMAs red carpet, even though he couldn't be there with his partner, Wilson made crystal clear that the Harris-Wilson camp is facing forward as a united front. They're pretty damn cute, too.