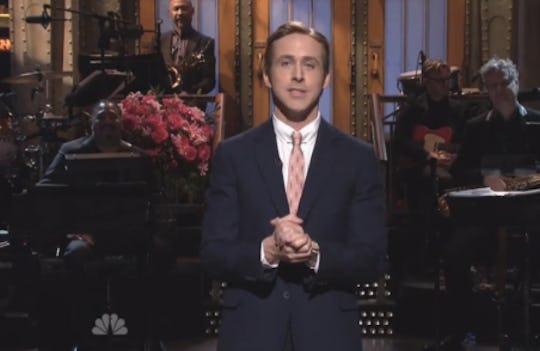 Ryan Gosling Hosted 'SNL,' & These Were The Best Moments By Far
When it was announced that Ryan Gosling was going to host Saturday Night Live on Dec. 5, expectations were high. Gosling had never hosted SNL before, and there was no telling what the multi-talented man of our dreams and memes would bring to the stage. Would there be a Hey Girl spoof? Probably not — the joke was too old. Would they parody "It wasn't over. It still isn't over"? (Thank god they didn't, because that sh*t is sacred.) Would he sing and dance? Yes, yes he would.
The cold open sadly didn't feature the Gos. Instead it was Taran Killam and Cecily Strong impersonating Donald and Melania Trump again, with Killam reading out their holiday Naughty or Nice list.
Fortunately, Gosling appeared in nearly every skit, so viewers got lots of him. Over the course of the evening, he played a scarecrow, an elf, and someone being screened by the NSA, becoming less and less able to avoid laughing at the skits in which he himself was participating. So basically, Gosling showed he's game for anything and that he's as adorable as you thought, even if his performance in the Dec. 5 episode of SNL wasn't everyone's favorite.
Here are some of the best moments from Ryan Gosling hosting SNL: