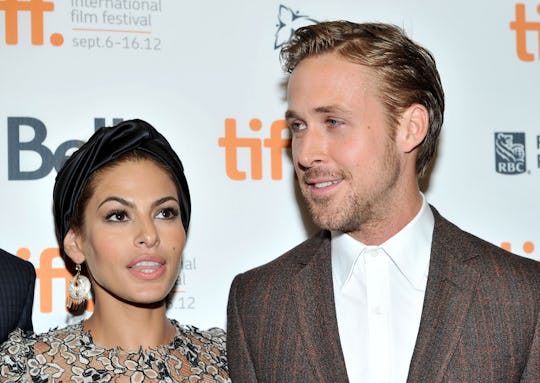 Sonia Recchia/Getty Images Entertainment/Getty Images
Ryan Gosling's Quotes About Eva Mendes Are Really The Sweetest Thing
When it comes to favorite Hollywood couples, Ryan Gosling and Eva Mendes certainly make quite a few lists. And the heartthrob-y talented dynamic duo have been known to keep their private life... well, private (and good for them). But that hasn't stopped their fans from admiring what little they do share about their private life, like, cute stories about their daughters, Esmeralda Amada and Amada Gosling. As for the couple themselves, they remain pretty secretive about their relationship. But, the Ryan Gosling quotes about Eva Mendes, that do exist, are pretty awe-inducing.
Mendes, who's usually private, recently interviewed with Latina magazine – for which she will be featured on the cover for its September issue – and shared information about the recent loss of her brother, Carlos, and giving both of her daughters her grandmother's name, Amada. Mendes described it as "true Latin fashion." As for parenting, Mendes told Latina that it's a "special time."
Well, I have two girls. That's a lot. It's early for me to make any big statement about having children. My older little girl is not yet 2 years old. My little one is still an infant, and right now it's really about surviving those nights and trying to enjoy this time as much as possible with them, and start the bond between Esmeralda and Amada. It's a really, really special time. I'm loving it.
So, what does Gosling have to say about Mendes? Grab your tissues.
"It's heaven, it's like walking through a field of flowers everyday – I live with angels."
Gosling appeared on ABC's Good Morning America back in May to discuss his film with Russell Crowe, The Nice Guys. When asked about the gender ratio in his home (he's outnumbered 3:1), Gosling replied by calling Mendes and his daughters angels. Seriously, how perfect is that response? He was also poking fun at what it was like working with Crowe for the film, but let's just focus on his angels comment.
"She hates credit and she'll even be mad that I'm giving her that credit. But she was very helpful in so many ways."
What's cuter than someone bragging about their significant other's skills? In an interview with The Daily Telegraph in Sunday Style, Gosling revealed what it was like working with Mendes on the film Lost River. According to Gosling, Mendes is both crazy talented and modest. And he sure sounded proud.
"I know that I'm with the person I'm supposed to be with."
And I, and many I'm sure, know that I'm absolutely swooning. Gosling told Canadian magazine Hello! back in December that he knew Mendes was the one for him. We believe you Ryan, we believe you.
What kind of woman is Gosling into? "That she's Eva Mendes... there's nothing else I'm looking for."
Nailed it.