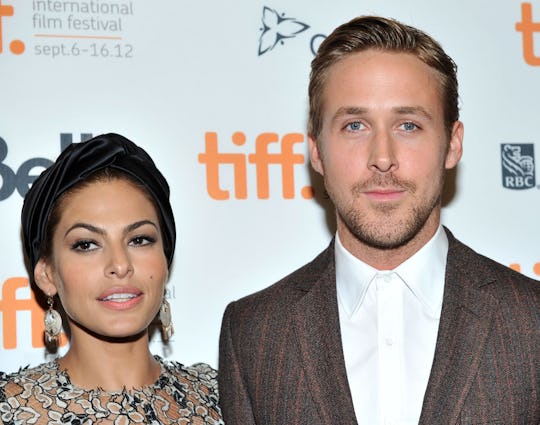 Sonia Recchia/Getty
Ryan Gosling's Tribute To Eva Mendes Is The Ultimate #RelationshipGoals
Think you couldn't possibly love Ryan Gosling more than you already do? Well, brace yourself, because it's about to be a reality. In an exclusive interview with Hello! Canada, a normally-tight-lipped Gosling gushed about longtime love Eva Mendes and also discussed life with the couple's one-year-old daughter, Esmeralda. The talented (and super handsome) actor made fans swoon as Noah in The Notebook (or, if you were a 12-year-old girl in Canada like I was back in 1998, as Sean on Breaker High), and our love for him has only grown over the years as he's come out as a self-proclaimed feminist (who better to become the subject of the amazing "Hey Girl" memes?). But it turns out that his devotion to his family might just be the most attractive thing about him.
In the interview, Gosling spoke about fatherhood, and about spending the upcoming holiday season with his daughter. "This will be our first Christmas where [Esmeralda is] sort of taking it all in," Gosling told the mag, "so that's exciting." But it's not just his little girl he's in love with — when asked about his relationship with Mendes, who he's been dating since 2011, he didn't hold back, saying "I know that I'm with the person I'm supposed to be with."
But that's not all. What does Ryan Gosling look for in a woman? When the interviewer asked, Gosling replied, "that she's Eva Mendes. There's nothing else I'm looking for."
Mendes and Gosling met while working on The Place Beyond The Pines, playing a couple with a baby on the way. Not long after, life totally imitated art, because the seriously in-love couple announced they were expecting a daughter together. And now the family are three are happily spending time together...listening to Hanson music? According to Gosling,
"She's obsessed with the Hanson Christmas album! No disrespect to Hanson, they're very talented kids, but I think I've heard that record enough. I'm sure it will be on a loop this Christmas as well."
Um, on second thought, Ryan Gosling's dislike of Hanson is totally an issue. Everyone knows the Hanson Christmas album is the best cheesy pop Christmas album of all time, right? Right? (His daughter obviously has great taste).
Images: Sonia Recchia/Getty; Giphy (2)