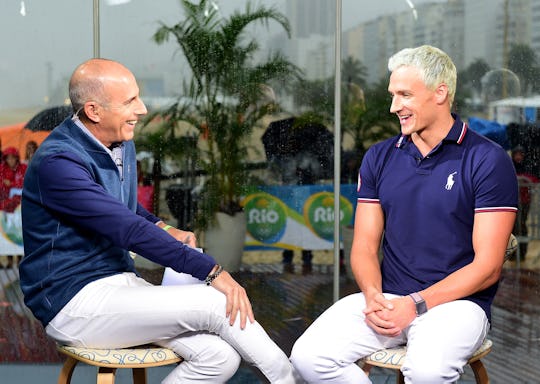 Harry How/Getty Images Sport/Getty Images
Ryan Lochte Admits 'Immature Behavior' Caused The Robbery Scandal
The Ryan Lochte robbery scandal is perhaps one of the most controversial things to emerge from the 2016 Summer Olympics. What started off as a fun night out with the USA Swimming team quickly evolved into a media frenzy. But what was behind it all, and what prompted the run-in with Brazilian security guards (an incident which quickly became one of the biggest scandals of the summer)? In a recent interview with Matt Lauer, Ryan Lochte admitted "immature behavior" caused the robbery scandal.
Since coming back to the United States from Rio, Lochte has been on something of an apology tour. This involved posting a lengthy apology message on his Instagram, dyeing his blue hair back to brown (whatever that gesture meant, if anything, wasn't quite clear), and sitting down with Lauer on Saturday night for his first formal interview in the United States since the incident occurred.
Lochte's interview with Matt Lauer attempted to clear the air about the incident as the swimmer tried to give a better explanation of how the scandal occurred. "I over-exaggerated that story," Lochte told Lauer. "This is why I'm taking full responsibility for my actions. Because if I didn't over-exaggerate the story, to what I said when I talked to Billy Bush, none of this would have happened. We wouldn't be here, we wouldn't be sitting here discussing this."
The robbery scandal was preceded by a few things, of course: Lochte's false reports where he claimed that he had a "gun pointed at his head" and the following conflicting reports of two other swimmers — Gunnar Bentz and Jack Conger — when questioned by police. Video surveillance footage also revealed that the true story of what happened which didn't match up with Lochte's initial reports.
Lochte admitted he had lied to Billy Bush, the first person to interview Lochte on camera after the incident occurred. The interview was filmed before news broke that Lochte filed the false police report. In the interview with Lauer, Lochte admitted he was still intoxicated during his interview with Bush, which happened hours after the robbery incident occurred.
After admitting his faults in lying about the incident, Lochte then apologized to Brazil and people of Rio in his interview, saying:
They put on great games. The people of Rio or Brazil, the authorities, everyone there put on great games. And my immature behavior tarnished that a little, and I don't want that. I'm just really sorry and I hope they can accept my apology.
Lochte ended his interview with Lauer by telling him that he hopes to continue his Olympic swimming career and work on becoming a "role model to little kids" in the future.
With reports of Lochte possibly losing sponsorships or potentially facing setbacks in his career, this incident further proves that the age old adage of "honesty is the best policy" still applies. Thankfully, the swimmer is attempting to get out in front of the mess now.