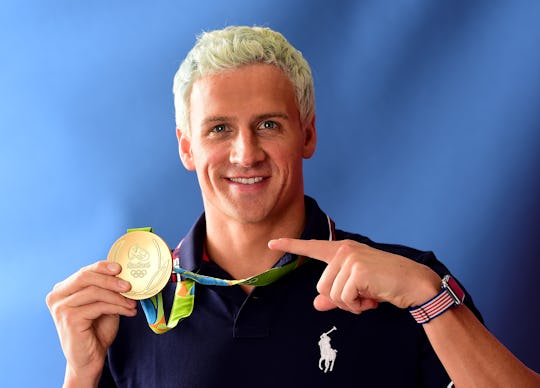 Harry How/Getty Images Sport/Getty Images
Ryan Lochte Charged By Brazilian Police With Filing False Robbery Report
Just when you thought it was safe to go back in the water... LochteGate continues. Now that U.S. Olympic swimmer Ryan Lochte is back on American soil, one would think his problems with the Brazilian police would be over, right? Wrong. It turns out Ryan Lochte is being charged for filing a false robbery report with the Brazilian police, proving boys cannot always just be boys.
Lochte, who was in Rio de Janeiro to compete in the 2016 Olympics, claimed that he and three other members of the U.S. Olympic swim team had been robbed at gunpoint by men posing as police officers. Lochte's allegations were called into question by local law enforcement officials, who were suspicious of the swimmer's story. Lochte and the other swimmers (Jimmy Feigen, Gunnar Bentz, and Jack Conger) have since admitted that they were not robbed, but were, in fact, caught vandalizing a local gas station after a night of drinking, and asked by armed security guards to pay for the damages.
Lochte was the first to leave Brazil, and was already back in the United States when Brazilian police officials entered the Olympic Village seeking to further question him on the chain of events. But now, it turns out he might be heading back to Brazil after all.
Detective Clemente Braun told Fox News that Lochte will be expected to appear in a Brazil courtroom to face the allegations and offer a plea, otherwise he will be charged in absentia. The Brazilian police will be sending an indictment to state prosecutors (as well as the International Olympics Ethics committee) once a full investigation into Lochte's claim has been completed. Once the state prosecutors have seen the indictment, they pass it on to a federal law enforcement agency, and that agency is responsible for notifying Lochte (although I sort of suspect he may have caught wind of it before then).
According to Brazilian law, the maximum penalty for falsely filing a report to the police could carry up to 18 months in jail. Brazil and the United States have had an extradition treaty in place since the 1960s, but whether or not the U.S. government would comply and extradite Lochte if he is found guilty remains to be seen.
Lochte's fall from grace on his home turf has been swift and relentless since the embarrassing incident. While he did send out an apology via Instagram, many fans were left cold by his lack of accountability and ownership:
I want to apologize for my behavior last weekend - for not being more careful and candid in how I described the events of that early morning and for my role in taking the focus away from the many athletes fulfilling their dreams of participating in the Olympics.
Since the Rio Olympics, Lochte has been dropped by his some of his most lucrative sponsors including Speedo and Ralph Lauren.
Lochte's publicist did not immediately return a request for comment.