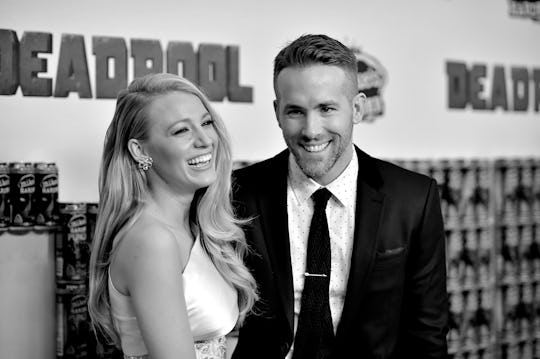 Dimitrios Kambouris/Getty Images Entertainment/Getty Images
Ryan Reynolds & Blake Lively's 6 Funniest Moments As A Couple, Because They Are #Goals
Ryan Reynolds is a big fan of bragging about and publicly sharing his love for his wife Blake Lively. How do I know this? It's not because Reynolds and I hang out at Starbucks or anything (although how great would that be, right?). No, Reynolds just likes to tell people weirdly private stuff about himself while simultaneously being super private. It's sort of his thing. Here are some of the six funniest moments Reynolds and Lively have had as a couple, and I'm probably going to break up with my boyfriend afterwards for not being Reynolds. Just as an FYI.
Here's the thing about Ryan Reynolds and Blake Lively: they are really beautiful, but they are clearly so much more than just their great looks. They just also happen to be pretty cool people, too. It seems pretty unfair that they are both successful, in love with each other (they met on the set of Green Lantern in 2011 and have been married since September 2012), and parents to one little girl named James with a second baby on the way. That feels like too many good things for two beautiful people to have, not that I'm jealous because I'm so not jealous. But on top of all that, they are actually funny?
Reynolds On Why He Fell In Love With Lively
No, it's not because she's beautiful. Jeez. Apparently, the girl can bake. He told E! at the Green Lantern premiere:
Oh, she's quite a baker. There's nothing she can't cook, that's sort of the problem...aren't actors supposed to be out causing massive amounts of bad press and trouble? But this girl's in a kitchen all day, baking our crew on our movie—everything you can imagine. I mean she had soufflés coming! What's weird is she would live 30 minutes away, but when she brought stuff, it was still warm. I think there's an Easy Bake Oven in her car.
A Little PDA For The Deadpool Fans.
Want to know how Lively captioned this Instagram pic? "Two Deadpools, one cup. Your turn." Plus her super straight face cracks me up.
He Dedicated His MTV Movie Award To Her
When Reynolds won Best Comedic Performance for his role as Deadpool at the MTV Movie Awards, he thanked his wife in the most hilarious way.
"I want to thank my wife," Reynolds said. "Everything I do is to make her laugh — especially the sex. So, thank you."
Hitching A Sweet Ride From Her Man
According to Lively's Instagram, "What's sexier than a man on a scooter? ... everything, actually." Also I think I used to have those floral jeans.
Lively Takes Jealousy In Stride
More from Lively's Instagram. (Who knew there was comedy gold in there amongst the perfect, sunshiney selfies?)
Should I be concerned that my husband's never looked at me this way?... #WhereAreThoseEyesWanderingReynolds #HelenMirrenIStheSexiestWomanAlive #WomanInGold
Reynolds' Hidden Talent Drives His Wife Crazy
Reynolds told Live With Kelly and Michael that he has this one talent that drives his wife nuts. Apparently, he can make a movie trailer out of anything (complete with intense voice and everything). This actually sounds amazing to me.
So there you have it. Reynolds and Lively are basically perfect. What do I do with my life from now on?