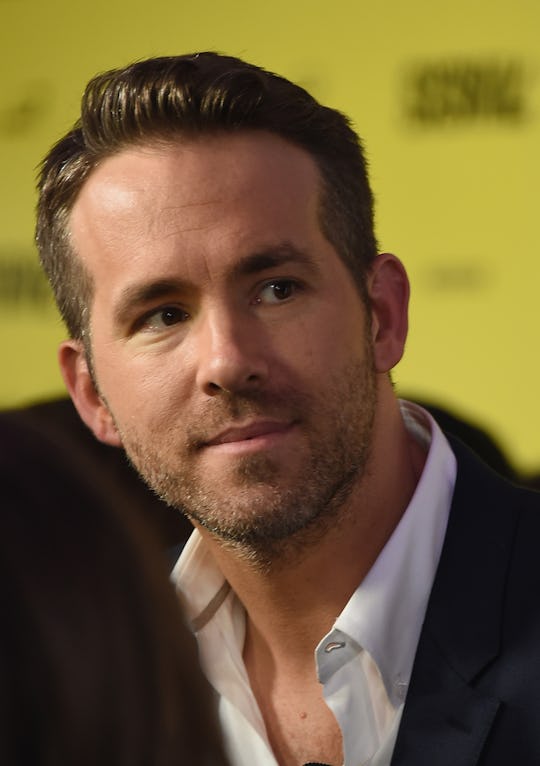 Michael Loccisano/Getty Images Entertainment/Getty Images
Ryan Reynolds Helped A Couple Hilariously Celebrate Their Anniversary On Twitter
I wonder sometimes if there will ever come a day when I'm just totally over Ryan Reynolds' tweets. When I scroll through Twitter and see some wry little something from the Deadpool actor and roll my eyes. That day might come, but it is not today. Because Reynolds just helped this couple celebrate their anniversary in the weirdest, sweetest way possible. So he's just going to keep winning the internet for the foreseeable future and everyone will have to be fine with it, okay?
Reynolds has managed to make an entire second career out of Twitter in recent years, and I won't lie to you; I might prefer it to his first career as an actor. I didn't love Deadpool, guys, I'm sorry. But fortunately, I do love Reynolds' Twitter feed and proudly count myself as one of his more than 10 million followers. What is it about his tweets that are so engaging, you ask? Well first of all, he's funny in the best way; sarcastic and self-effacing. Two of my favorite character traits, especially in a handsome male. Second, he and his wife, Gossip Girl actress Blake Lively, troll each other on Twitter all the time and it's truly entertaining. And third, he actually engages in a real way with his fans. Like this guy who brought Reynolds in to wish his wife a happy anniversary.
Jason Sandford reached out to Reynolds on Saturday to see if he would help him wish his wife Angela a happy anniversary after 11 years of marriage:
hi would you be so kind as to wish my wife @angrysandford a happy 11th wedding anniversary pretty please we are both huge fans
And here is the best part; Ryan Reynolds actually did it.
Reynolds' message to Angela was... interesting.
Angela. 11 years went by like a lemonade daydream. Words are too clumsy to express what your love means to Jason—which is probably why he had me say it for him.
This certainly opens up a new venue for Reynolds. Now that fans know he's open to helping out with anniversary messages, he might as well get used to doing this for all of the people all of the time.
I worry that Reynolds simply will not have enough time to take on personalized anniversary and birthday greetings these days. Especially now that he's trying to schlep his new gin through his Aviation Gin company. Even while selling gin, which should really just about sell itself when you think about it, Reynolds goes the extra mile. When a fan recently reached out to ask him what Aviation gin tastes like, Reynolds obviously had the best description ever ready to go.
I mean, who else would make the connection between "heaven and laughter having a baby while watching Titanic?" How is this even a thing? Although now I sort of want to try it, just to see.
As much as I like these tweet responses to fans, I have to admit my favorite tweets tend to be about his kids. Reynolds has two daughters with Lively, 3-year-old James and 1-year-old Ines. Presumably he loves his little girls, but man does he like to roast them on Twitter.
As I stated previously, there will probably come a day when I stop loving Ryan Reynolds' tweets about everything. But that day is nowhere in sight. For now, I'll happily pour myself a cup of coffee and spend a lazy Sunday morning scrolling through Reynolds' Twitter feed, reading along as he casually holds on to his crown as the King of Twitter.