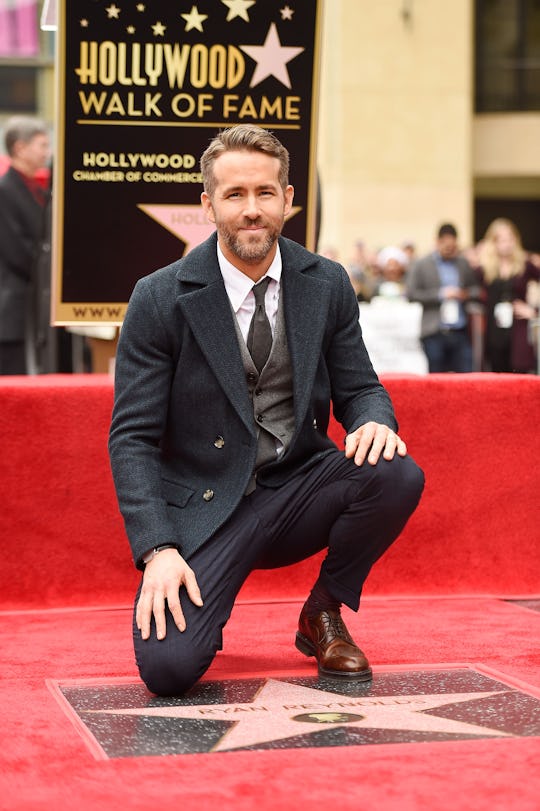 Matt Winkelmeyer/Getty Images Entertainment/Getty Images
Ryan Reynolds Got Refreshingly Honest About How He's Struggled With Anxiety
Comedians have long been known for pulling humor out of the difficulties in their lives, but not many would have guessed that's also what drives the humor of one of the world's funniest actors. In a new profile with The New York Times, Ryan Reynolds opened up about his struggle with anxiety and the driving force it is for much of the comedy his legion of fans see from the star.
As Reynolds shared with The New York Times, he finds himself riddled with anxiety anytime he has to go on stage, do an interview, or promotional appearances for his work. "I have anxiety, I've always had anxiety," he told the Times. "Both in the lighthearted 'I'm anxious about this' kind of thing, and I've been to the depths of the darker end of the spectrum, which is not fun."
As a young actor, the star chose to channel those fears with action and energy, choosing to serve as the audience warm-up comedian when he worked on the ABC sitcom Two Guys, a Girl, and a Pizza Place, according to the Times. Over the years, his comedy has become a bit of a self-defense mechanism, something he's able to put out in front when he has to meet the public or speak to the press. "When the curtain opens I turn on this knucklehead, and he kind of takes over and goes away again once I walk of set. That's a great self-defense mechanism."
For promotional appearances for the upcoming sequel to his massive hit Deadpool, Reynolds has been happy to do many of the interviews in character as the smart-aleck superhero, according to the Times, something which creates a bit of space between himself and the audience. He also takes time to use a meditation app called Headspace. But his Deadpool co-star, Morena Baccarin, told the Times that Reynolds' sharp wit is also just innate talent. "[He's} incredibly astute in the moment, and knows how to make a moment better," she told the publication.
Fans of the actor see that comic timing play out not only through his characters and appearances, but through his celebrated Twitter account, where he often cracks plenty of wise jokes at the expense of his daughters, 1-year-old Ines and 3-year-old James.
He said he's been blessed to find a wife, Blake Lively, who not only tolerates his jokes, but is able to come back with her own. "She gets me a lot," he told the Times.
Some of Reynolds' humor may have been born out of the turmoil of his own childhood and the tough house where he grew up with a father who he referred to as "the stress dispensary in our house." As the youngest of four boys, he found his role was to absorb some of the tumult by heading off anything that might upset his dad, making sure everything was clean and orderly. "When you stress out kids there's a weird paradox that happens because they're suddenly taking on things that aren't theirs to take on," he told the Times.
Reynolds told Variety in 2017 that he can see, in retrospect, how those years were the genesis of his anxiety. "I think the anxiety might have started there, trying to find ways to control others by trying to control myself. At the time, I never recognized that. I was just a twitchy kid."
Scientists have proven a link between childhood trauma and anxiety and depression later. Psychology Today reported on a study that "[D]emonstrates that negative childhood experiences may lead to altered connectivity in the brain's fear circuitry—which, in turn, may lead to the development of internalizing symptoms such as depression and anxiety."
Reynolds seemed to indicate in his interview with the Times that it is mostly high-pressure situations that come with expectations that trigger his anxiety. Away from the spotlight, he appears to feel much more relaxed and described how, after starring National Lampoon's Van Wilder early in his career, people would approach him in bars offering shots. They'd discover that he wasn't the hard-partying character, but "this incredibly boring version of a guy who looked like their hero," he told the Times.
It's hard not to love Reynolds, both in character and out, and it makes him all the more appealing that he's opened up about this very human side of himself. One can only hope it will serve as a reminder that anxiety afflicts people on levels that aren't often seen, and what's on the surface may not be the whole story.
Check out Romper's new video series, Bearing The Motherload, where disagreeing parents from different sides of an issue sit down with a mediator and talk about how to support (and not judge) each other's parenting perspectives. New episodes air Mondays on Facebook.