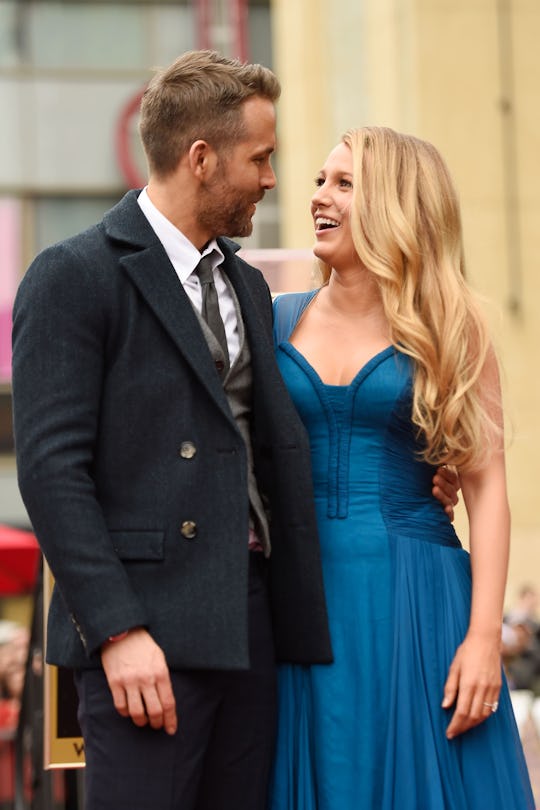 Matt Winkelmeyer/Getty Images Entertainment/Getty Images
Ryan Reynolds Revealed Blake Lively Did *The Most* Boss Thing When She Went Into Labor
Sometimes it seems like Ryan Reynolds and Blake Lively communicate to each other only with inside jokes and jabs on social media. But if you come for the lighthearted trolling, you definitely want to stick around for the juicy family secrets that the Deadpool 2 star lets slip now and again. For example, over the weekend Ryan Reynolds revealed that Blake Lively drove herself to the hospital while she was in labor, which is, to put it bluntly, very badass.
On Saturday, Lively posted the second trailer to her upcoming movie with Anna Kendrick, A Simple Favor. The movie looks really good, mainly because all the promo materials center around the tagline, "What happened to Emily?" It's so much suspense, I literally cannot wait until it comes out so I can watch Kendrick and Lively drink martinis and possibly murder each other? Or someone? It's very compelling. Compelling enough that Lively's husband is dying to know, too.
He tweeted at her. "You can tell me. We're married. You once drove me to the hospital when you were giving birth. So... what the f*ck happened to Emily?" The way he casually drops the fact that Lively got behind the wheel while in labor is just too much. It must be true, because Lively didn't even flinch in her response.
Instead, she wrote to her husband, "Oh darling, of all the secrets I'm keeping from you, this should be the LEAST of your concerns... trust me." Another good burn courtesy of Blake Lively. It must be a fun household to live in, just because they seem really to like each other (which isn't always true after a few years of marriage and some kids). Lively told Glamour that it's all about friendship, explaining:
In other relationships, if something came up, I would call my girlfriends, or my sister, and say, "Hey, this is what he did – what should I do? Whereas with him, we were friends for two years before we were ever dating. And I treat him like my girlfriend. I'm like, "Hey, this happened. It upset me. This is how I feel. What do I do?" And he does the same for me. He treats me like his best buddy.
Lively and Reynolds have two daughters together, 3-year-old James and Ines, who's just a year old, and they're possibly even thinking about having even more. According to Page Six, a source close to the couple said, "They are planning on having more kids, but they may have to wait another year due to busy work schedules." But the gossip outlet might have to check their sources.
In January, Reynolds told Entertainment Tonight that he wasn't exactly planning on adding more humans to his family anytime soon. He joked, "Definitely going to have more sex, but we'll see what happens after that." His wife seems to agree, although it sounds like she's considered having more than just two kids in the past. Last year she told E! News, "I'm one of five kids. My husband's one of four. So we're officially breeders." Lively added, "You can go on our website and we will give you some of our children."
Although they haven't confirmed anything when it comes to their plans for a third baby, both Reynolds and Lively never miss an opportunity to gush about how much they love being parents. For example, Reynolds told Men's Health that he feels super lucky that he gets to live the kind of life that he does. He said:
I'm also really lucky: my work is intense for periods, but then I can also take time off, and a lot of people can't. So I'm grateful for that. I love watching my kids grow and evolve, and I hope that I get to do that for a huge amount of their lives. Until they kick me out.
Which probably won't happen anytime soon. If anything, it might be the other way around if Lively doesn't spill some of those secrets soon. Or at least tells him what happened to Emily.