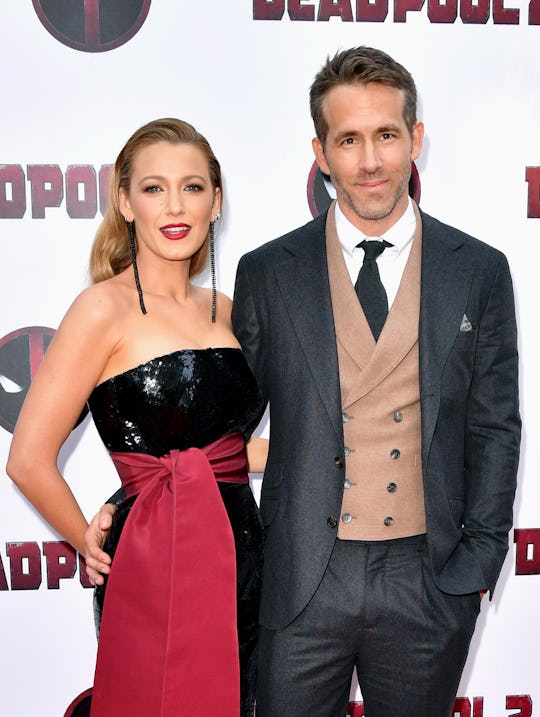 Michael Loccisano/Getty Images Entertainment/Getty Images
Here's How Blake Lively Helped Ryan Reynolds Fix His "Fractured" Relationship With His Late Father
Family relationships can be some of the toughest around. But they can also be the best. Ryan Reynolds, for instance, has recently spoken about how two important relationships in his life that run that spectrum. In an new interview with Mr. Porter, 41-year-old Reynolds shared how his wife Blake Lively helped fix his relationship with his late father, and it's further proof of how strong they are as a couple.
Reynolds has spoken before about the fractured relationship he shared with his dad, a man he described as "a former cop, former boxer, full-time landmine" in his new interview with Mr. Porter. But Lively, he told the magazine, "has a gift for foresight" and urged him to work on their relationship. That apparently paid off.
Though Reynolds' father died in 2015 from Parkinson's disease, he was able to meet Reynolds' first child, according to People, a daughter he and Lively named James in honor of his dad. He even carries his father and daughter's initials — "JR" — inscribed on the back of the watch he wears every day, according to Mr. Porter. Someday, he told the magazine, he'll hand the watch down to his daughter.
Reynolds still wears some scars from his past. He is open about his struggles with anxiety, crediting them to the turmoil of the home he grew up in. To head off his father's blowups, Reynolds previously told The New York Times that he "became this young skin-covered micro manager," trying to keep order and peace in the house.
"Our father was tough. He wasn't easy on anyone. And he wasn't easy on himself. I think the anxiety might have started there, trying to find ways to control others by trying to control myself. At the time, I never recognized that. I was just a twitchy kid," he said in a 2017 interview with Variety.
But as an adult he's made his own peace with his past and it's clear that he isn't looking for sympathy. "This is not meant to be some sob story – everyone carries their own bag of rocks around and I am no different in that regard – but growing up in my house, it was never relaxing or easy and I know that, throughout my life, I've dealt with anxiety in different ways," he told Mr. Porter.
One of those spells was in the days before the first Deadpool film released, when he was riddled with anxiety over how audiences would receive the film, according to Variety. "I never, ever slept. Or I was sleeping at a perfect right angle -- just sitting straight, constantly working at the same time. By the time we were in [post-production], we'd been to Comic-Con, and people went crazy for it. The expectations were eating me alive," he said, according to Variety.
His wife became his support and helped him navigate the experience. "Blake helped me through that. I'm lucky to have her around just to keep me sane," he said, according to People.
Though Reynolds reconciled with his father, he's admitted that doesn't erase the past. In 2016 he told People his dad's death left a lot of unanswered questions and that "unless I can find a very upscale Ouija board, I have to accept there'll be no answers." He added, "But in the end it found its own version of closure in peace."
Reynolds explained in his interview with Mr. Porter:
All family relationships come with some complications. For better or worse all roads lead to here. At the end of the day, it's easier to focus on the good stuff than the bad. My father died soon after my daughter was born, but he got to see her, which makes me happy.
It's good news that the Deadpool star has come to terms with the shadows of his past, and it sounds like his marriage to Lively is one thing that gives him the strength to do so.