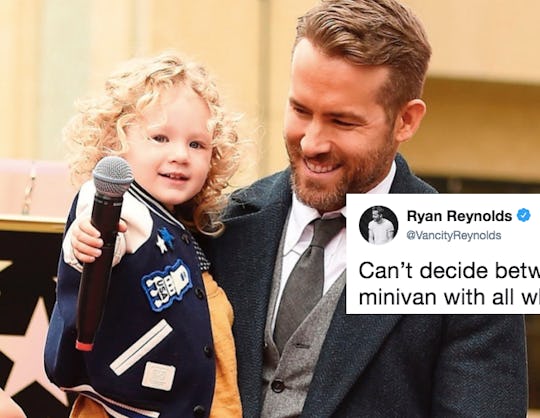 Matt Winkelmeyer/Getty Images Entertainment/Getty Images
Ryan Reynolds Tweeted About Buying A Minivan & It's By Far One Of His Peak Dad Moments
Ryan Reynolds could probably just give up that whole acting thing and just focus on his dad jokes. Because let's face i: that's where his creative strength really lies. Not that he's a bad actor or anything, of course. He's just better at Twitter than he is at almost anything else. It's a compliment, I swear. Like this latest Reynolds' tweet about buying a minivan. It's a peak dad moment in a life filled with dad (and husband) highlights on social media.
Reynolds took to Twitter on Tuesday to ostensibly consider the merits of switching out his vehicles. He is a family man these days after all, father to 3-year-old daughter James and 1-year-old daughter Ines. Which might have some people thinking of the convenient luxury of a top-of-the-line minivan. I had one as a mom, after all. And I bet Reynolds could afford a brand new one, unlike my 2002 model where the sliding door kept inexplicably opening on me.
Between his income and that of his lovely wife, actress Blake Lively, I bet they could get all the bells and whistles on a new minivan. But perhaps I'm speaking too soon... because, according to Reynolds' tweet, it's possible he's not exactly pumped about the idea of a minivan.
The Deadpool actor wrote, "Can't decide between a midnight blue minivan with all wheel drive and foldable rear seats or a coffin." Now that doesn't sound especially enthusiastic, does it?
Of course, his many followers on Twitter were quick to come up with helpful suggestions.
Some were Team Coffin.
Some were Team Minivan.
Some figured he could do both, especially if he went with a classic hearse. Which could act as both a sensible vehicle to transport his family and carry around groceries as well as a thing for dead people.
Whichever he chooses, or if he doesn't choose either as I'm suspicious might be the case, the point is he got the internet thinking about him. And Reynolds is incredibly good at getting noticed on social media.
Why, it's only been a few days since he issued a pretty spectacular smack down about some pesky divorce rumors that have reportedly been swirling around about his marriage to Blake Lively.
It seems several news outlets, including International Business Times India, were reporting that he and Lively were heading for divorce because their busy schedule was making it difficult for them to find "quality time" with each other. Reynolds' response?
The couple have been married since 2012, and have a long history of witty online repartee with each other. So, while they have not released an official statement negating the rumors, I think Reynolds' sardonic response of "I wish. I could use a little 'me time,'" should effectively put the stories to rest.
Well, that and the couple's recent spate of date nights with fellow adorable Hollywood couple, John Krasinski and Emily Blunt. According to ELLE, the foursome enjoyed not just one but two adorable double date nights in the past two weeks, the most recent of which was in celebration of Krasinski and Blunt's new movie, A Quiet Place, which premiered in New York City on Monday.
Ryan Reynolds might not be buying a blue minivan or a coffin. And he definitely doesn't seem to want any "me time" away from his wife (thank goodness, because I don't think the world could take another Hollywood breakup right now). But the man knows how to make people laugh with his dad/husband moments. And for that, we bow down to him.
Check out Romper's new video series, Bearing The Motherload, where disagreeing parents from different sides of an issue sit down with a mediator and talk about how to support (and not judge) each other's parenting perspectives. New episodes air Mondays on Facebook.