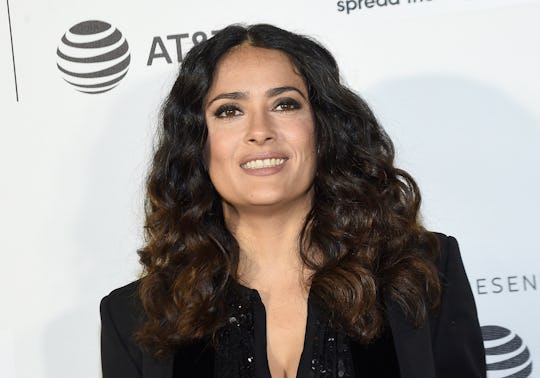 Ilya S. Savenok/Getty Images Entertainment/Getty Images
Salma Hayek's Daughter Is A Slime Entrepreneur
Kids simply can't keep their hands off the fun and gooey substance known as "slime." Seriously, almost every kid and tween is obsessed with the DIY craze right now, including Salma Hayek's daughter who makes her own slime. Turns out, 9-year-old Valentina is not only a budding scientist, but as her mom recently told People, she's also quite the entrepreneur and has been cashing in on the slime-making trend.
"She got into learning how to make slime," the 50-year-old actress told People in the latest issue. "She has a lot of it in the house. She has developed like 40 different recipes for slime and she became very popular in school because it's not easy to make."
Slime is typically made from ingredients found around the house, like water, glue, food coloring and Borax, a common cleaner used around the house and in laundry, according to NBC News. But, since the DIY trend has taken over schoolyards across the country, dozens of homemade slime recipes have cropped up to meet the excitement.
Hayek continued, "Now she's experimenting with different things and the kids all want to learn and she teaches them, and then they want to buy it from her, she started selling the slime!"
And like any other parent, the How to Be a Latin Lover star was totally impressed with her daughter's creativity and ingenuity to turn her hobby into a booming business.
"She's really into it. I love it that she's into chemistry and she has the creativity to do her own creations and experiments and it's very tactile so it's cool," Hayek told People. "I'm impressed, I didn't know she was going to go this far with it."
Have a look at the fluffy product she created below:
And Valentina isn't only interested in science: As Hayek told People, she and her 9-year-old enjoy discovering new books to read together, like the children's novel Wonder by R.J. Palacio, which is about young boy who has a congenital facial abnormality and learns to cope with bullying.
"Sometimes I come across books that I really love and then there are some parts she reads on her own and if I miss one, I am furious because I wanted to know what happens!" Hayek told People in the same interview. "She has to debrief me or sometimes I take the book on my own so I don't get lost. I really am enjoying discovering these books because I didn't do that when I was her age."
When she's not running a business, Hayek's little mogul seems like she's a down-to-earth girl who is interested in the same things every other American kid is right now — whether it's reading heartfelt books, texting her friends, or, of course, making a colorful batch of fluffy slime.