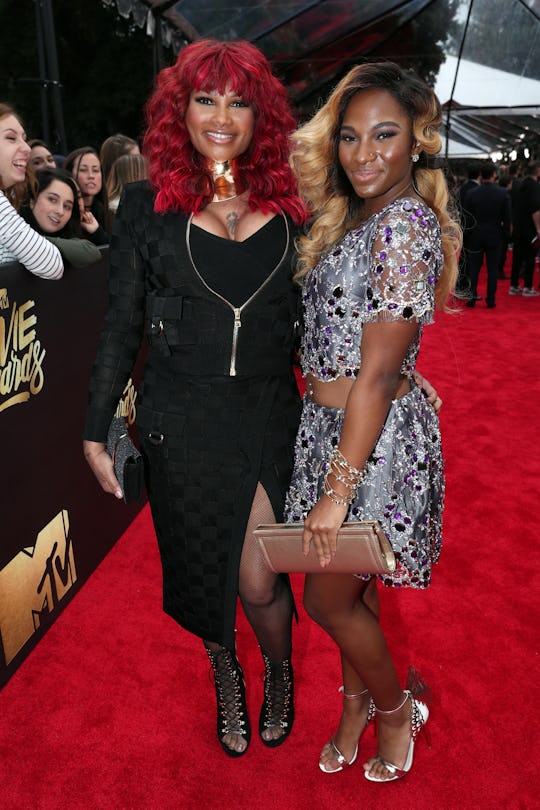 Christopher Polk/Getty Images Entertainment/Getty Images
Salt-N-Pepa Introduced Ryan Reynolds At The MTV Movie Awards & It Was Perfect
Ryan Reynolds got the very best introduction possible at the 2016 MTV Movie Awards on Sunday night. Salt-n-Pepa introduced Reynolds before the actor took to the stage to collect his award for Best Comedic Performance in Marvel's Deadpool. But it got even better from there: Dancing Deadpools joined Salt-N-Pepa while they sang "Shoop" — a.k.a., Deadpool's favorite song. It was perfect in so many ways.
Considering that Salt-N-Pepa split up 16 years ago, it was quite the throwback to see them "shoop"ing across the stage to present the award to Reynolds. When MTV News talked to the trio leading up to the show, Pepa admitted they're big fans of the actor. "Who isn't?" she said. "I think he's going to freak out cause we've been like stalking him since Deadpool came out."
As he came on stage to accept the award, Reynolds joked about the dancing Deadpools, saying, "I'm really glad Amy Schumer didn't win. That would have been really weird with those dancers!" In Reynold's typical, over-the-top humor, he continued, "I want to thank my wife, Blake. Everything I do is to make her laugh, especially the sex."
Between the Salt-N-Pepa appearance, the dancing comic book characters, and Reynold's joking, it was almost like getting a second, small peek at Deadpool. And if you watched the movie (which shattered box office records) you'll understand why everyone wants just a bit more Deadpool.
If the performance made you miss the sweet hip-hop tunes of Salt-N-Pepa, you're in luck. The trio will actually be headlining an "I Love The '90s" tour, along with Vanilla Ice, Coolio, and Kid 'N Play. According to Rolling Stone, the tour was only meant to be a few shows, but it's now turned into a United States-wide tour. The next show will take place just five days after the MTV Movie Awards, in South Carolina.
"It feels like you're taking people back to a time in their lives that they really enjoyed. It's just one big '90s party," Salt told USA Today of the tour, adding,
We say in the beginning of our show, "This is not a show, this is a Salt-N-Pepa experience." We say that because, back in the day, performing felt more like, "We are here to entertain you." But now it feels like we are hanging out with friends and we don't feel pressure to put on a show. We just have fun with the crowd and the crowd has fun with us.
The crowd definitely had fun with the Salt-N-Pepa experience on Sunday night (okay, with a bit of Deadpool tossed in, too). If you're curious when they'll be "shoop"ing through your city, check out their tour dates. Maybe they'll even convince Ryan Reynolds to pop in for a surprise appearance at one of the shows.