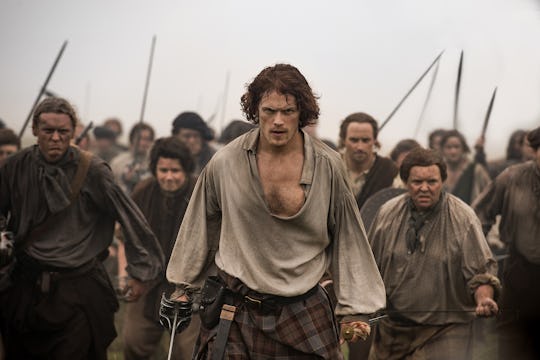 Starz
Sam Heughan Hated Playing This Jaime Fraser Alias In 'Outlander' Season 3
Droughtlander is almost officially over, which means fans will once again be able to immerse themselves in the epic (and sometimes very tragic) story of Jamie Fraser and Claire Randall-Fraser. But before these two characters can once again reunite, viewers need to see what they get up to in the 20 years they spend apart. This entails living completely different lives — and in Jamie's case, even taking on a few extra aliases; sometimes by choice, other times, not so much. But during a recent press event, Outlander's Sam Heughan revealed what Jamie alias he hated playing in Season 3. And the answer may very well surprise ye bonnie lads and lasses.
As most fans are well aware of by now, Jamie's full name is James Alexander Malcolm MacKenzie Fraser, which is already quite a mouthful in and of itself. So how he's able to keep track of all the different nicknames that have been given to him throughout the years, I'll never know. (Were post-it notes a thing in the 1700s?) One such nickname that immediately comes to mind is Red Jamie, which, of course, is meant to distinguish his identity by way of his flaming red hair. Then there's Jamie MacTavish, The Dunbonnet, Mac Dubh, Alex MacKenzie, and Alexander Malcolm, which is just to name a few.
This character develops other aliases in the books that TV viewers just haven't gotten to yet. But which of these is the one that Heughan hated portraying? Let me give you a hint...
That's right — Dunbonnet was the actor's least favorite version of Jamie to tackle, and for two very specific reasons. "I hated Dunbonnet," Heughan explains to reporters. "The hair and the beard was so rough." Granted, I don't think anyone can blame him for that. The Jamie we've all come to love and (let's be honest), lust after is almost unrecognizable in his Season 3 cave man look. But you'd think it would've at least been fun to play, given how different the persona is. Not only is Jamie once again hiding from British soldiers, but he's also kilt-deep in mourning the loss of his wife Claire, who went back through the stones when the Battle of Culloden commenced.
However, Heughan oddly enough seems to enjoy the life of a chained up prisoner far more than that of an unshaven, free outlaw. "I liked Mac Dubh at Ardmuir prison," adds Heughan, while also promising that the relationship Jamie develops with his captor John Grey begins there and becomes a "really interesting" development to his story. (And for those wondering about the odd nickname, Mac Dubh is actually Gaelic and means "Son of the Black." He's given this title because his father was called "Black Brian.")
Suffice to say, fans will definitely be seeing a different side of Jamie throughout the beginning of the third season. But as long as I get to look into that dashing face each and every week, you'll hear no complaints from me. Bring on the scruff!
Check out Romper's new video series, Romper's Doula Diaries: