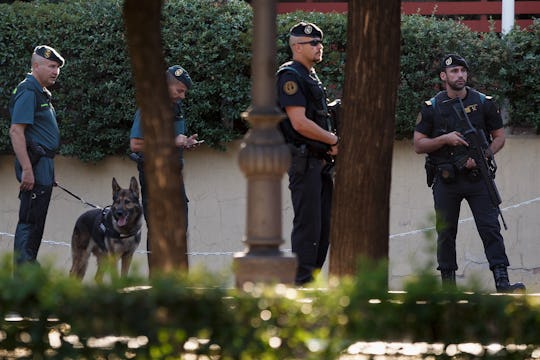 Pablo Blazquez Dominguez/Getty Images News/Getty Images
San Antonio Police Headquarters Hit By Gunfire, Leaving The Department On Edge
It was another worrisome night for police in Texas on Saturday. After an especially difficult week for law enforcement officials in the Lonestar State, the last thing the police would have wanted was more gunfire. Unfortunately, the San Antonio Police Headquarters was hit by gunfire on Saturday night, and it has left the department on edge once again.
According to San Antonio Police Chief William McManus, the department got a call reporting shots fired around 10 p.m. CT on Saturday. Officers investigated and found gun shot holes in the building and shell casings nearby. Nobody was hurt, thankfully, but there was a suspect seen fleeing the scene of the crime and police questioned a suspect who has since been released. There is another suspect who remains at large. The area around the building has been closed by the police to allow further investigation.
Chief McManus told Fox San Antonio that these sort of attacks would not make victims of the police force.
"We are not going to be targets; we are not going to allow officers to be targets," he said. "This is not open season on police officers here in San Antonio or anywhere else. We're not going to allow that to happen."
After the sniper attack on Thursday at a peaceful Black Lives Matter demonstration took the lives of five police officers and wounded seven others in Dallas, the gunfire aimed at the police headquarters in San Antonio is an "alarming" development.
"It's alarming right now," McManus said. "It's not the first time our building has been shot at but it's too coincidental that it's around the time that officers are being threatened in cities around the country, especially here in Texas."
The sniper attack on Thursday targeting police officers came after two Black men, Philando Castile and Alton Sterling, were killed by police officers. Both deaths were caught on video and almost immediately went viral. The deaths sparked Black Lives Metter demonstrations around the country, with demonstrators expressing their outrage and frustration with racial profiling and dangerously excessive use of force by officers.
Since the attack in Dallas, police departments around the country have been on high alert, especially in bigger cities like Chicago, New York, Philadelphia, Las Vegas, and Cincinnati. According to CNN, officers have been instructed to work with partners and two police officers will be stationed outside headquarters on a round-the-clock basis.
Chief McManus told reporters that officers continue to look for "A Hispanic male wearing an orange shirt and navy blue pants was seen running from the scene," in relation to the gunfire outside the San Antonio police headquarters.