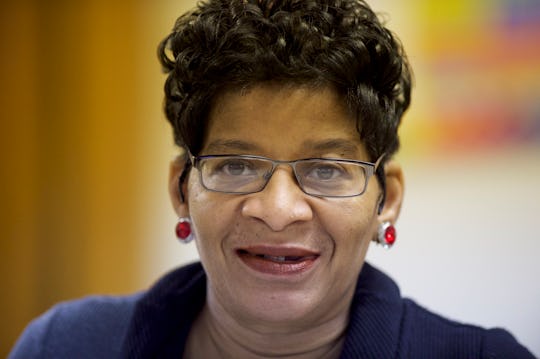 Mark Makela/Getty Images News/Getty Images
Sandra Bland's Family Settles Wrongful Death Suit For $1.9 Million
On Wednesday night, following more than a year of mourning, Sandra Bland's family settled a wrongful death lawsuit for $1.9 million. The family's attorney, Cannon Lambert, made the announcement on Thursday, various media outlets reported. In addition to the financial compensation, the settlement also lists changes changes that will be implemented to jail procedures in Waller County, Texas.
"After talking to moms across the country, this is what we've been looking for," Bland's mother, Geneva Reed-Veal, told BuzzFeed News. "This is monumental. This is not just about me." Reed-Veal has been traveling across the country to bring attention to police brutality against blacks since her daughter's death.
Bland was arrested during a traffic stop. Some of the arrest was captured on video, and Bland can be heard protesting the arrest. Bland died at the Waller County Jail three days later. According to investigators, Bland was found hanging in her cell, and her death was ruled a suicide by medical examiners.
The Waller County Sheriff's Office released booking papers that reveal that upon being admitted to jail, Bland told a guard she had previously tried to kill herself, but that jail officials saw no signs of mental illness. Bland's mother has denied that Bland ever faced depression, and has previously said at a symposium of The Congressional Caucus on Black Women and Girls that she does not believe Bland committed suicide.
No one was charged in Bland's death. Her arresting officer, Brian Encinia, was indicted for perjury and fired.
Most of the settlement amount will be paid by the Waller County jail at $1.8 million. The remaining $100,0000 will be paid by the Texas Department of Public Safety.
In a Facebook statement, the Waller County Sheriff's office's attorney announced that the settlement has not been finalized yet:
A potential settlement agreement has been reached, but is not yet final. The parties are still working through a few details. In addition, The potential settlement must be approved by the Waller County Commissioner's court, which has not yet occurred. The parties also agreed in writing that the potential settlement was to remain confidential until finalized, after which time it would be public record. The Waller County defendants intend to honor this commitment. The Waller County defendants also emphasize they vigorously deny any fault or wrongdoing, and the potential settlement does not involve any such admissions. Although the settlement amount is confidential until approved, it does not involve the expenditure of any County funds, other than a modest $1,000 deductible.Once the settlement is final, the County will be issuing a formal press release."
Romper reached out to the Waller County Sheriff's office and the Texas Department of Public Safety for comment on the settlement, but did not hear back at the time of publication
Some of the changes being brought to Waller County jail include providing an on-duty staff nurse or emergency medical technician for all shifts, and using automated electronic sensors to ensure timely cell checks, Lambert told CNN. Buzzfeed reported that any laws that result from the settlement will be named after Bland.
"Now that it's happening, I'm sure it will set a precedent across the country," Reed-Veal told BuzzFeed News. "People won't be satisfied with just money. We need to make sure that they are making change that will save lives."